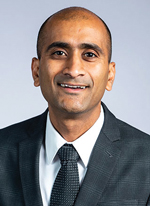 Praveen Edara
Interim Dean, Chair, Professor, P.E.
W1006 Lafferre Hall
Phone: 573-882-0948
Email: edarap@missouri.edu
CEE - Chair | Civil and Environmental Engineering
Biography
Praveen Edara is the interim dean of the College of Engineering and chair and professor in the Department of Civil and Environmental Engineering at the University of Missouri. He teaches and conducts research in the areas of traffic operations, intelligent transportation systems, geometric design and traffic safety. His research has been supported by various US agencies, including NSF, U.S. DOT, NAS, state DOTs, and local governments. His current research focuses on generating artificial realistic crash datasets, examining safety through naturalistic driving study data, assessing disaster resilience, investigating alternative intersection designs, and developing virtual and augmented reality modules to train the transportation workforce. He and his co-authors received 2015, 2016 and 2019 best paper awards from two standing committees of TRB of the National Academies.
Prior to joining MU, he worked as a research scientist for the Virginia Transportation Research Council (VTRC) conducting research in ITS and Traffic Engineering. Before VTRC, he worked as a research contractor at the Turner Fairbanks Highway Research Center of the Federal Highway Administration, performing research in alternative interchange/intersection designs and traffic safety.
He is a registered professional engineer in Missouri and a certified professional traffic operations engineer.
Education
PhD from Virginia Polytechnic Institute and State University
MS from Virginia Polytechnic Institute and State University
BTech from the Indian Institute of Technology-Madras
Technical Focus
Intelligent transportation systems
Traffic safety and countermeasures
Website