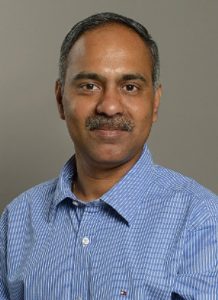 Raghuraman Kannan
Professor, Biological Engineering
NW 403, School of Medicine
Phone: 573.882.5676
Email: kannanr@missouri.edu
Chemical and Biomedical Engineering
Biography
Raghuraman Kannan is a professor of radiology with a joint-appointment in the Department of Chemical and Biomedical Engineering at the University of Missouri. He has been a faculty member at MU since 2005. He leads the program on clinical translation of nanomaterials at MU. He received his master's degree in chemistry from the Indian Institute of Technology at Madras in 1993 and his doctorate in chemistry, with a gold medal, from the Indian Institute of Science in 1999.
Kannan has been actively involved in the design and development of nanomedicine drugs and metal based radioactive pharmaceuticals for more than 15 years. As a principal investigator of National Institutes of Health-funded grants in the field of nanomedicine, Kannan has developed a library of biocompatible, non-toxic and readily injectable targeted nanoparticles for prostate, breast and pancreatic cancers. The results of these investigations have been published in several peer-reviewed high impact journals and formed the basis for several patent applications.
Entrepreneurship: Kannan is a co-founder of four start-up companies at MU. Two of his companies, Nanoparticle Biochem Inc. and Shasun-NBI, LLC, have already raised million dollar investments. Nanoparticle Biochem Inc. won 2012 Tibbett's award — presented at the White House — for technical innovation and economic development.
Education
PhD from the Indian Institute of Science
MS from the Indian Institute of Technology at Madras
Technical Focus