January 29, 2021
Mizzou Cybersecurity Center directors have assembled an all-star team of industry professionals to guide the future of research and education around cybersecurity strategies.
The new Mizzou Cybersecurity Industrial Advisory Board (IAB) will help plan center activities, provide input into research and educational curricula and consider potential strategic partnerships between the center and their respective organizations.
"Having this board in place will ensure Mizzou remains at the forefront of cybersecurity research and training, and emerge as a leader in the field," said Rohit Chadha, Cybersecurity Center Director and Associate Professor in Electrical Engineering and Computer Science (EECS).
Members of the new IAB are all recognized cybersecurity experts with a mix of governmental and industrial experience, said EECS Associate Professor Prasad Calyam, Director of the Mizzou CERI Center for Education, Research and Infrastructure, and Co-Director of the Cybersecurity Center.
"We are grateful for their time, advice and passion to shape the cybersecurity research and education experiences of our students at Mizzou," Dr. Calyam said.
IAB members are: Ryan Frillman, Equifax; Cindi Carter, MedeAnalytics; Kevin Fuller, Burns & McDonnell; Jason Martin, Defense Information and Systems Agency; Randy Raw, Veterans United Home Loans; Walid Rjaibi, IBM; and Nichole Windholz, a lead technology architect for a large health care company in Kansas City. Jon Rolf of the National Security Agency will serve as a liaison to the board.
About the Members
Ryan Frillman
Ryan Frillman is a Technology Information Security Officer at Equifax Workforce Solutions in St. Louis. There, he is responsible for interpreting technology risk considerations to provide solutions that mitigate risk exposure across the enterprise. Mr. Frillman is also an adjunct faculty member at Lindenwood University, where he focuses on networking and cybersecurity courses.  He is a thought leader for end-to-end quality of cybersecurity control processes delivering on IT first and managing operational risk, to include transforming security to enable business agility and improve the bottom line.
"It is important for me to share and collaborate with those institutions that educate the next generation of individuals interested in cybersecurity," he said. "This would also include having discussion with fellow board members on where they see gaps in skills needed within their industry vertical."
Mr. Frillman said he hopes the IAB will concentrate on what the cybersecurity industry needs in terms of educated individuals to help solve complex problems.
The board, he said, will guide "where we need Mizzou to focus on to ensure those who graduate will be able to enter the workforce and be impactful within their business."
Cindi Carter
Cindi Carter is Chief Security Officer (CSO) for MedeAnalytics. There, she oversees global enterprise security, advances a culture of accountability and protects information assets and technologies for the company and its clients. Ms. Carter is a proven security executive with more than 15 years of experience leading large-scale strategic technology initiatives in Healthcare.
Motivating by example, valuing and developing others, and grounded in integrity, Ms. Carter serves as a mentor for many students and professionals. She is the founding President of Women in Security-Kansas City, a nonprofit organization with the mission to empower women in information security at all career levels. She is also a Board member, an active member of the Information Security Leadership Forum-Kansas City, frequent speaker at security conferences, an instructor for the Kansas City Chapter of the Project Management Institute, and actively contributes to advisory councils for several leading security organizations.
Ms. Carter is the recipient of SC Media magazine's "Women to Watch in Cyber Security 2018" award, and featured in Cybersecurity Venture's book, "Women Know Cyber: 100 Fascinating Females Fighting Cybercrime." She holds a Master of Science degree in Information Technology and a Bachelor of Science degree in Management Information Systems both from Central Michigan University.
Ms. Carter is excited to inspire students as future security practitioners because "It's personal. My purpose is deeply rooted in human safety, whether it's online or physical security. In health care, your medical record is as unique as your fingerprint, and there are many factors that contribute to protecting each individual."
Kevin Fuller
Kevin Fuller is a senior director and CISO at Cognizant, specializing in cybersecurity & risk management with over 20 years of demonstrated experience. He's an innovator, leader and advisor to senior executives to implement industry best practices across the enterprise. Mr. Fuller has experience counteracting threats targeting a wide range of industries and their customers including defense, manufacturing, energy, healthcare, and financial services.
"Cybersecurity is a critical skill today and its importance will only continue to grow," he said. "Programs like Mizzou CERI are vital in building up the next generation of practitioners and speed up their learning path so they can enter the workforce with a greater impact. The Industry Advisory Board gives me the opportunity to support the educational systems that are building the next generation."
Mr. Fuller says he is excited to see the collaboration of industry professionals, faculty and students to solve real-world problems facing companies today.
"Companies are always looking for new approaches to problems and ways to test out potential talent," he said. "Students and faculty are always looking for projects that push their curriculum forward and give students hands-on experience that translates into professional environments. This kind of collaboration is a way to meet everyone's needs in one package."
Jason Martin
Jason Martin, class of '97, is Vice Director of the Development and Business Center at the Defense Information and Systems Agency (DISA). His tenure at DISA spans more than a decade and is complemented by a career in the private sector. With over 20 years of systems engineering, program management and leadership experience, Mr. Martin is among the senior leadership of the nation's premier combat support agency who is supporting a new era of innovation in the cyber domain.
Serving on the IAB, he said, "is my opportunity to share what I have learned working within the Department of Defense and private industry. It allows me to give back to the university that was so instrumental in my education and preparing me to join the workforce. I have thoroughly enjoyed working with the College of Engineering and their students over the past year, to share the Defense Information Systems Agency's mission and the workforce's dedication to public service, especially in the area of cybersecurity. Working with partners from other areas of government and industry will allow new ideas and information sharing that will benefit the university and help students become more competitive for internship and career opportunities.  The Cybersecurity Industrial Advisory Board will play an important role in building an even stronger Mizzou."
Mr. Martin said he hopes the group is able to prepare Mizzou students for the ever-evolving world of cyberspace.
"It requires rapid-thought leadership, creativity, and dynamic approaches to new challenges," he said. "Providing real-world experience and insight from government and industry leaders outside of the classroom will be key assets as students prepare for their careers.  This will be a game changer for the Mizzou cybersecurity program. The organizations represented by board members will also benefit, as we will develop an understanding about the next generation of cyber defenders that will inform what our organizations need to do to best support the new talent poised to join our workforce in the years to come."
Randy Raw
Randy Raw '87 is Vice President of Information Security at Veterans United Home Loans, the leading VA lender in the nation. He leads efforts to develop a proactive approach to information security across all aspects of the business. He has almost 30 years of experience in both public entities and private industry, including leading security efforts at the Missouri Research and Education network (MOREnet), Linn State Technical College (now State Technical College of Missouri) and the Osage County R-2 school district.
"Cybersecurity is essential for all organizations as some part of every business has a technology component," he said. "Protecting the confidentiality, integrity and availability of that technology component is paramount to innovation, scale and profitability. I am very interested in helping the University prepare students who understand the critical function of cybersecurity in helping all businesses thrive in the rapidly changing global economy."
Successful cybersecurity students must understand how to frame risk in business language, and cybersecurity requires a risk-based approach, he said.
"Cybersecurity professionals have often been seen as the N-O people," Mr. Raw said. "My hope is to help reframe the mindset of cybersecurity students to understand how to be the K-N-O-W people who help their businesses thrive in the rapidly changing, global economy."
Walid Rjaibi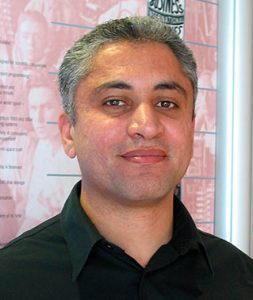 Dr. Walid Rjaibi is a Distinguished Engineer and CTO for Data Security at IBM. He drives the research for data security as well as the technical architecture for several products including Guardium Data Protection, Guardium Data Encryption, Guardium Insights, Security Key Lifecycle Manager, and Data Risk Manager. Prior to his current role, Dr. Rjaibi held several technical and management roles within IBM including Research Staff Member at the Zurich Research Lab, Security Architect for DB2, and Chief Security Architect for IBM Data & AI. His Data Security work resulted in several commercial capabilities, 26 granted patents and various publications in leading scientific and academic journals/conferences.
"I like to share my experience engaging with students at IBM (internships, research collaboration) to help shape the academic programs in computer science and engineering," he said. "I hope to see a fruitful collaboration to positively influence the academic programs for the benefits of the students as well collaborative research with stronger academic, societal and business impact."
Nichole Windholz
Nichole Windholz is a Manager and Lead Technology Architect at a large health care company in Kansas City, where she has worked for more than 20 years. She is a Certified Information Systems Security Professional and a Certified Information Security Manager. Ms. Windholz is the Vice President and Director of Education for the Information Systems Security Association (ISSA) ® – Kansas
City and is a Founding Member of Women in Security – Kansas City (WiS-KC).
"There is a huge demand for resources in the Security field," she said. "This is a way for me to get involved and help work to develop security interest and skills. I hope to see a robust offering that will help the individuals participating in the courses graduate with a head start."
Jon Rolf
Jon Rolf '88 will serve as a liaison to the board. Mr. Rolf is Technology Lead for the National Security Agency, part of the
Department of Defense, where he has worked since earning his bachelor's in electrical and computer engineering. Over the course of his 30-plus year tenure, he's worked on security around cellular phones and classified networks.
The Mizzou Cybersecurity Center supports innovative, interdisciplinary research and education approaches to national security problems and to pursue joint funding in support of this research and education. Read more here.