June 15, 2022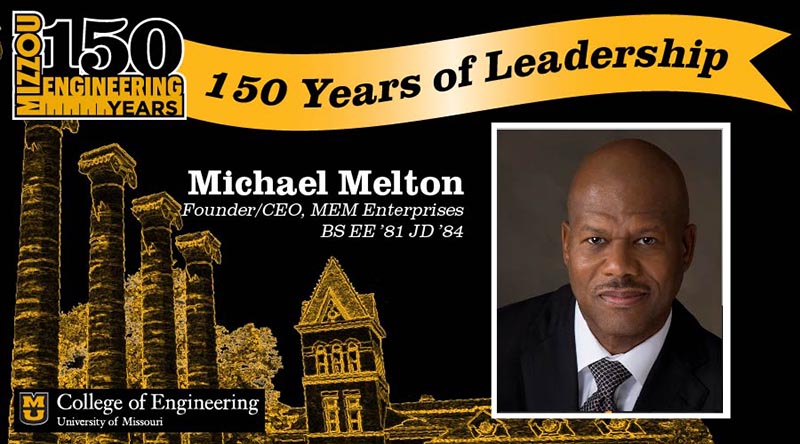 Michael Melton, Esquire, is often asked whether he ever uses his bachelor's degree in engineering. After all, he's had an extraordinary career as a businessman, having started his own company after working for years as a patent attorney.
Melton (BS EE '81, JD '84) is Founder and President of MEM Enterprises Group which owns, operates and manages Taco Bell and Five Guys Burgers restaurants and commercial real estate. The portfolio of Taco Bell restaurants is the largest owned by an exclusively African American group. The Five Guys portfolio includes the two highest-grossing locations in the United States. Before that, Melton was one of the earliest African Americans to obtain registration to practice before the U.S. Patent and Trademark Office.
And about that engineering education? It started it all, Melton says.
"Engineering is the foundation of why I'm successful," he said. "It was the most difficult achievement I ever had to go through, coming from my background in Kansas City and being ill-prepared to study engineering, but fighting through it with brute force. It taught me problem solving — to keep searching for solutions and being detailed about the possibilities. That inquisitiveness has been a big part of my success."
Engineering his future
Melton's journey from Kansas City to Mizzou was a bumpy one. He knew he was interested in engineering because of his curious nature. However, he didn't have some of the technical knowledge required for the field. What he lacked in advanced math and sciences, he made up for in problem-solving skills, determination and persistence.
While friends were going to the games, Melton was studying. When classmates hung out with peers, Melton was getting help and advice from professors and mentors. Specifically, he remembers Professor Robert Leavene in electrical engineering and computer science, who provided not only academic advising but also personal encouragement and support. Working out in the gym, Melton introduced himself to another faculty member, a physicist, who would go on to help connect him to campus and other resources.
"Whether it was a little bit of financial help through scholarships or someone taking time to talk to me or hearing a motivational speaker, people helped me," Melton said. "I believe people can motivate you in ways they don't even realize."
Melton's sacrifices paid off and prepared him to navigate future challenges. After earning a degree in electrical engineering, he completed law school, passed the bar, then passed a separate law exam to become a registered patent attorney.
In the area of innovation and invention, Melton's engineering background set him apart from many patent attorneys. His curiosity as an engineer helped him to understand not only a specific idea being conveyed to him from an inventor but also the ramifications and impact of a particular technology beyond that invention.
"When someone comes to you with an idea, you have to understand it and be able to have a conversation about it in order to document it in the form of a patent," he said. "I would have inventors tell me how it worked and why it worked so I could help them come up with additional applications and variations. If I could imagine what the next generation of that technology looked like, I could help the inventor expand his invention in the patent application."
Melton put his unique skillset to work in the U.S. Department of the Navy in Washington, D.C.: Motorola, where he served as Vice President and Director of Worldwide Semiconductor Licensing; Pitney Bowes, where he was Deputy General Counsel and Chief Intellectual Counsel; and Texas Instruments, where he served in various capacities, including  Patent Counsel, Licensing Counsel and European Legal Counsel and Corporate Secretary  during a three-year stint in Nice, France .
When he decided to start an investment company by purchasing 19 Taco Bell restaurants at one time, Melton again looked to the problem-solving skills from engineering to make his case.
"I was told I didn't have experience in restaurants for this big of a [big] deal," he said. "I explained to them that I was disciplined, had organizational management skills and understood people, so I knew how to get help. Whether it was in accounting, food delivery, food storage, or whatever, I could bring it all together to make the organization run. I credit the decision I made to study engineering and developing critical thinking skills for my ability to work through problems."
Helping future generations
When he's not managing his properties and portfolio, Melton helps future leaders find their path. He's served as a board member of the following: National Head Start Association; Democracy Prep Congressional Heights (DC) Public Charter School; Boys and Girls Clubs of Greater Washington, D.C.; the National Foundation for Teaching Entrepreneurship; the Urban League of Northern Virginia; and the Boy Scouts of America, from which he received the Whitney M.  Young Jr. Service Award (for service for demonstrated involvement for developing and implementing Scouting opportunities for youth)
Melton is a staunch supporter of Mizzou Engineering, too, donating his time to the Dean's Advisory Council and the Inclusion, Diversity and Equity Alumni Advisory Council. This past spring, he was recognized with a 2022 Missouri Honor Award from the College for his contributions, allowing him to share his journey with faculty, staff and students at a Mizzou engineering banquet.
Melton hopes his story inspires students who may struggle or wonder if they're too unprepared to pursue engineering.
"A lot of people look at me and presume it must have been easy, that I must have been prepared and moved right through it," he said. "That's not the case, but it doesn't have to be the case in order to be successful. Education is one of the surest paths to achieve success, so if I can provide a little finical support or time to help the next generation, I do so."