September 14, 2022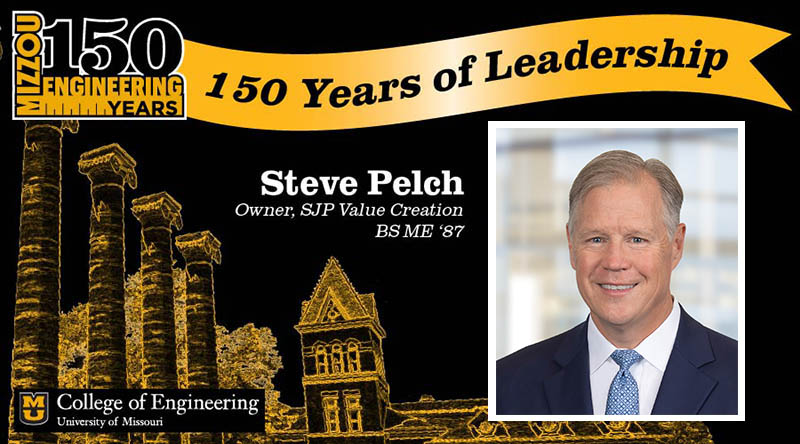 Many successful companies in today's economy depend not only on outstanding service and best-in-class technology, but also rely upon creativity, unique business models and go-to market strategies, pervasive marketing outreach, authenticity or a global perspective that embraces aspects of both science and art.
Steve Pelch, BS ME '87, understands this. That's why billion-dollar companies hire him to help them navigate ever-evolving industries.
Pelch is owner of SJP Value Creation, a boutique advisory firm where he assists CEOs and C-suite executives on strategy, leadership, talent management, operations and acquisitions. His clients range from a $15 million privately held specialty chemical company to a $15 billion-plus information technology company you've probably heard of. He is also a senior advisor for Radial Equity Partners, a private equity company based in New York.
"I try to help clients to better understand their overall markets, their competitive landscape and optimal go-to-market strategies," Pelch said. "Where appropriate, I'll assist them in honing their management processes using the data that is readily available to make more informed decisions, faster, throughout their operations; be it in sales, quality, safety, customer service, technology or talent management."
While he admits he's biased toward science, technology, engineering and mathematics, Pelch stressed "that the keys to lasting success spans beyond STEM, well beyond strictly stand-alone technology."
He pointed to consumer electronics on the market today that very much require an eye for design, artistic detail, marketing insights, enhanced by a digital ecosystem – "just some of the topics we learn about at the University of Missouri."
Mizzou Engineering helped Pelch get his first role at Emerson Electric, where he worked for 34 years, prior to leaving in 2021 as Chief Operating Officer and Executive Vice President.
"A degree is simply the ticket to admission to enable exposure to many career and life experiences," said Pelch, who received the Missouri Honor Award in 2020. "The university gets you that first job, and from there, you never stop learning and never stop developing."
Pelch's first job was as an applications engineer at Emerson's Fisher Controls business in Iowa. At an early age, he was promoted into management, which gave him opportunities to lead people – something that he loves doing.
Pelch re-located and went on to lead service organizations to better understand operations, P&L management and customer service. He then led an acquisition for Emerson based in Portsmouth, New Hampshire, prior to moving to Singapore where he was responsible for sales and operations throughout Asia with manufacturing facilities in Australia, China, India, Japan, Singapore and Malaysia. After 17 years in business operations, he assumed several corporate roles including strategy, organizational development and human resources before being named COO in 2018.
"Mizzou prepared me to take on increasing roles and responsibilities at Emerson, in depth, breadth and complexity," he said. "I was able to make decisions along the way and learn from those decisions — both successes and failures. Ultimately, the vast and varied experiences and situations that I was exposed to over the last three decades, provides me the foundation to share those insights with organizations and leaders today."
Those experiences have made him a sought-after advisor, leader and mentor, but Pelch stressed that he continues to develop new skills.
"Even at this stage of my life and career, I would consider myself an avid learner and curious individual," he said. "You are never done learning!"
The foundation of success
In addition to guiding companies to success, Pelch freely shares what he's learned over the years with students and young professionals, at all stages as they navigate their careers — even to friends of his three daughters.
Some of the traits and behaviors that form the bedrock of success, he says, are persistence, dedication, hard work and good habits. But failure and disappointment are also beneficial.
"You have to stretch yourself," he said. "If you fail, learn from it."
For college students, that means trying new things, meeting new people and getting involved.
For young professionals, Pelch stresses the importance of being present, being passionate and being a team player.
As a young leader or manager of people, "never compromise on your people and organization decisions," he said. "Set and establish the performance standards by letting everyone know what you stand for and what you expect. if you do that right, and establish the right culture, then you are able to achieve even bigger things for your organization than you thought possible. A weak foundation, ultimately hinders you from reaching your goals and your organization's true potential"
Pelch also believes in giving back. In addition to investing in Mizzou Engineering students, he's on the board of directors of Junior Achievement of Greater St. Louis, the board of trustees of the Eisenhower Fellowships and is currently co-chairing a capital campaign for Ronald McDonald House Charities to build a new facility in the city of St. Louis. Thus far, they have raised $24 million, toward this $30 million campaign.
"I was fortunate, and I'm appreciative," he said. "It's my obligation to pay it forward, whether I do it for companies or non-profit organizations. While it is a time commitment, it is something that I truly enjoy, giving back and helping others lead. Never underestimate your ability to share your experience and share your console — your successes and your failures — so others can benefit from them, as well."
Gain an education that sets you up for leadership. Become a Mizzou Engineer.