September 09, 2022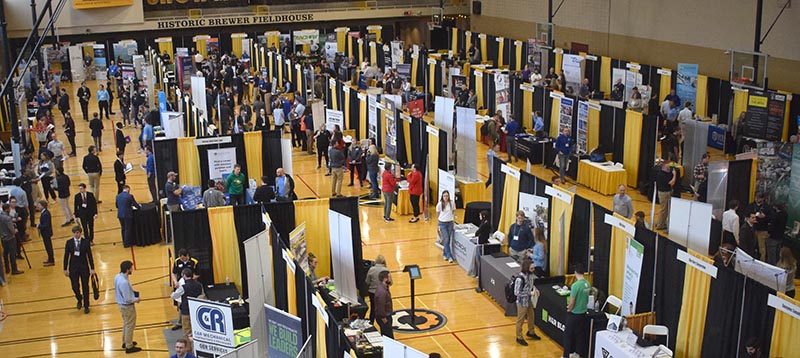 Want an exciting summer internship? Looking for employment after graduation? Then make plans to attend Mizzou Engineering's Fall 2022 Career Fair from 10 a.m. to 3 p.m. on Thursday, Sept. 22, at MizzouRec.
"Even if you're not sure what you want to do, this is a great opportunity to explore internship and post-graduation options," said Anh Nguyen, career services coordinator. "Hiring managers from some of the top companies and engineering firms in the country are coming to campus because they want to meet with students and hear about their interests and professional aspirations. This is really a chance to network with leaders in the field."
More than 220 employers are attending this year's Career Fair, including representatives from industries such as Burns & McDonnell, ARCO, Garmin, Emerson and Tradebot and governmental agencies such as the Missouri Department of Transportation and U.S. Armed Forces.
"These companies are very interested in hiring Mizzou Engineers because they know our students have had or are going to have incredible leadership and research experiences and are getting a top-notch engineering education that teaches both foundational skills and technical know-how," Nguyen said. "CEOs and hiring managers often tell us they're looking for well-rounded individuals who have had experiences both within and outside of engineering. They know Mizzou graduates will exceed their expectations."
While Mizzou Engineering's is the largest career fair on campus, it's not the only one engineering students can attend. The Trulaske College of Business, College of Agriculture, Food and Natural Resources, School of Health Professions and other colleges and schools on campus also host career fairs that allow engineering students to explore internship and employment opportunities in related fields.
"That really gives Mizzou Engineering students an advantage, as it exposes them to a wide array of career options," said Emily Bozich, corporate relations and professional development specialist. "It's just one of the benefits of being on a campus that has so many different disciplines, most of which have some connection to engineering."
Prepare for the Fair
Preregister for the Fall 2022 Mizzou Engineering Career Fair here.
Then, plan to attend one or all of these events leading up to the Career Fair to put your best foot forward when you meet with employers.
Get the Basics
Career Fair How-To
4-5 p.m. Monday, Sept. 12
Lafferre W1004
Get your resume reviewed by professionals
Mad Dash Resume Reviews
11 a.m. – 3 p.m. Tuesday, Sept. 20
Engineering Library
Meet employers in advance
Employer Tabling Meet and Greets
9 a.m. – 2 p.m. Sept. 19-22
Lafferre Hall
Hone your professional skills
Professional Development Workshops
3 – 6 p.m. Wednesday, Sept. 21
Lafferre Hall
Fall 2022 Engineering Career Fair Sponsors
Gold
ALSTOM
Burns & McDonnell
Central States Water Resources
Honeywell FM&T
Silver
ARCO
Brinkmann Constructors
Emerson
Garmin
Tradebot
Bronze
ADM
Ameren
Elessent Clean Technologies
Garver
Horner & Shifrin
Ingersoll Rand
Parker Hannifin – Sporlan Division
PayneCrest Electric
Procter & Gamble
Project Resources Group