November 15, 2022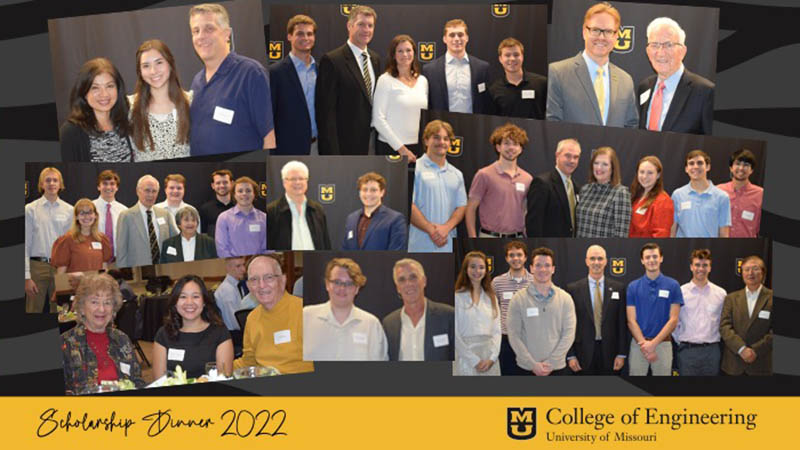 Scholarships are life-changing, and students who receive them are incredibly grateful. Those were the main take-aways from an in-person Scholarship Dinner held last week to let recipients meet the donors and alumni who have invested in them. A similar scholarship event will be held virtually this week.
"Your contributions have built upon a foundation of excellence in engineering. And our future is strong," Dean Noah Manring told guests. "Because of your support, we are able to provide more students with the top-notch education that has propelled so many of our alumni into successful careers and leadership roles throughout the years."
This academic year, more than 600 Mizzou Engineering students received over $9 million in scholarships and financial aid. Of that, more than $2 million in College scholarships comes from support of alumni and friends.
Scholarships were a factor in Olivia Guess's decision to attend Mizzou Engineering. Guess is a junior majoring in computer science with a minor in mathematics. She joined graduate student Ferris Dweik to tell alumni and donors how their investments impact student lives.
"My scholarships have enabled me to pursue my academic studies while also participating in various activities outside of the classroom," said Guess, who is involved in numerous organizations and undergraduate research at Mizzou. "Your kindness has given us many opportunities to pursue our degrees and to prepare us for the future as engineers and leaders. On behalf of myself and other students here, thank you very much."
After scholarships helped him complete his undergraduate degree, Dweik received a fellowship to continue to a PhD program.
"Overall, my goal is to become a professor who invents impactful technologies and translating them to the market," he said. "And for anyone to achieve their goals, they need the opportunities to succeed. My peers, the MU faculty and these fellowships have given me the very opportunities that were vital to get to where I am today and necessary to propel me into becoming an influential professor."
Mizzou Engineering offers scholarships based on a variety of factors, such as attending certified Project Lead the Way high schools and participating in FIRST® Robotics. A Multicultural Engineering program scholarship is designated to support students from diverse backgrounds. On the graduate side, the Doctoral Scholarship Program supports qualified students for their entire program of study.
Students may apply for engineering and campus scholarships, as well as financial aid, through ScholarshipUniverse. The deadline to apply for Fall 2023 is Dec. 1.
Take advantage of generous financial support. Apply to Mizzou today!
Interested in investing in Mizzou Engineering scholarships? Make a gift today! If you have questions about creating a scholarship please call 573-884-3426 or contact us at umcengrdev@missouri.edu.