December 13, 2022
Senior Madeline Easley recently took first place in the Department of Industrial and Manufacturing Systems Engineering's (IMSE) Undergraduate Research Competition. The award comes with a cash prize and a fully funded trip to the Institute of Industrial & Systems Engineers (IISE) Conference in New Orleans next year.
Easley presented work she's conducted with Associate Professor Jung Hyup Kim on using augmented reality (AR) classrooms. Specifically, the research team compared a current AR module, which uses an animated virtual instructor, against a protype built in 2020. In an IMSE Ergonomics class, a unit of biomechanics was taught using AR, after which students were asked to evaluate their levels of physical and metal demand, effort, frustration and performance. Students this year reported a significant decrease in workloads from 2020.
"With the help of a virtual instructor guiding participants through the lecture, students rated their workload much lower, indicating that the instructor aided them through the process," Easley said. "I think this is because the new setup mirrors the classroom that students are familiar with. And for participants who have never used AR before — which was a vast majority of students — having an instructor gave them an immediate target to focus on."
Easley said she enjoyed presenting her work at the competition and hearing feedback. Talking to others about the research gave her new insights, she said.
"I was incredible surprised and honored to win this award," she said, "and I'm excited to attend the IISE Annual Conference in New Orleans."
This was the second year for the IMSE Undergraduate Research Competition, which is supported by the IMSE Hall of Fame.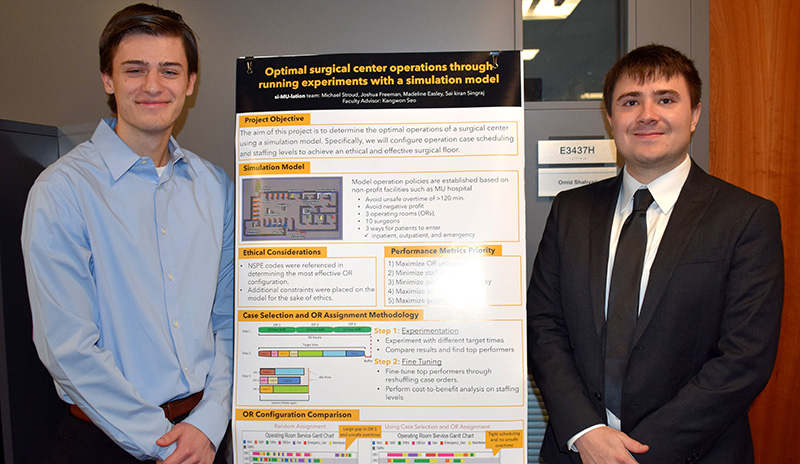 Seniors Michael Stroud and Joshua Freeman took second place for their poster, "Optimal Surgical Center Operations through Running Experiments with a Simulation Model."
Senior Alyson Winkelmann and junior Connor Larkin took third place for their study around lunch wait times at the Mizzou Student Center.
Be part of innovative engineering research. Apply today!