February 01, 2022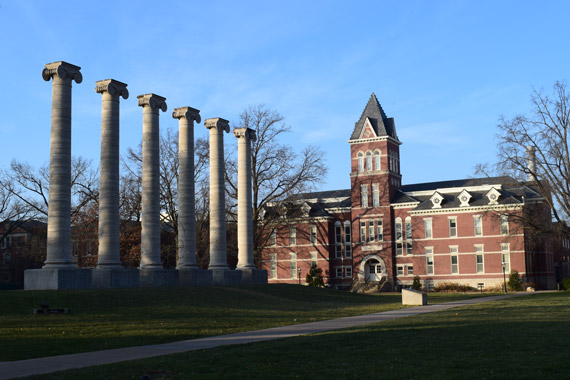 From lectures and labs to clubs and study abroad programs, Introduction to Engineering (ENGINR 1000) helps new students learn about everything Mizzou Engineering has to offer.
The primary goal of this class, which is offered each fall, is designed for those interested in pursuing an engineering degree but not sure which field to pursue.
Freshman information technology (IT) student Rianna Ellis credits the class for helping her decide to pursue an IT degree and being more comfortable with engineering overall.
"It was useful to go in-depth about each type of engineering, and it helped me determine to go into IT," she said. "I also became more comfortable and equipped to take on future classes, because the course simulated the whole Engineering experience with lectures, labs, mentor groups and working outside of class."
First-year student Alec Hume also found the introductory class helpful in deciding to pursue electrical engineering.
"My favorite part was working on the electrical engineering challenge," he said. "We had to design and build logic systems on an online simulator called CircuitVerse that would display different messages on seven-segment displays. I came into engineering undecided, and this class really helped me decide to go into electrical engineering."
It Takes a Village
Dr. Jim Noble, chair of the Department of Industrial and Manufacturing Systems Engineering, created the class three years ago, and has continuously improved it to be a better introduction experience for Engineering students.
"I believe the work I've done in teaching the class, training the teaching assistants (TA) and scheduling industry speakers has greatly benefited students," he said.
Jenny Gutierrez, a TA for the class and doctoral student in industrial engineering, planned and led workshops for her section of students.
"They (students) really enjoyed using the software specific for each major," she said. "For example, in civil engineering, they used software to build bridges and test their design with a truck going across the bridge. If the design was not good, the bridge would collapse. They were excited when a truck would make it across their design and shout 'I made it!'"
In addition to allowing students to explore different programs, the course goes beyond the classroom to teach students about opportunities available to them and to provide career support and mentorship.
Because of a presentation from Dr. Miguel Ayllon from Study Abroad about engineering programs in France and Ireland, Hume is now interested in studying engineering overseas.
Students also heard from a roster of distinguished alumni from each discipline, featuring:
John Neyens BS ME '06, Branch Manager, Klingner & Associates, PC
Brian Whorley BS IE '03, Founder & CEO, Paytient
Nichole Lane BS ME '20, Rotational Engineer, Honeywell
Brad Tessler BS ME '10, MS ME '12, Lead Mechanical Engineer, Honeywell
Josh Doerhoff BS CE '06, Vice President, Emory Sapp & Sons, Inc.
Jim Fitterling BS ME '83, CEO & Chairman, Dow
Drew Myers BS IT '03, Systems Engineer, Veterans United Home Loans
Adriana Ocampo BS IE '96, Sr. Manager – Global Technical Operations Strategy, Boeing
David Haffner BS IE '74, CEO (retired), Leggett & Platt
"My favorite activity was hearing from industry speakers," said Ellis.
Beyond the speakers, an added benefit for Ellis was being able to build relationships with other new Engineering students.
"It was good to connect with other students who were also undecided about what Engineering field they wanted to go into and to get to explore engineering together," she said.