April 27, 2022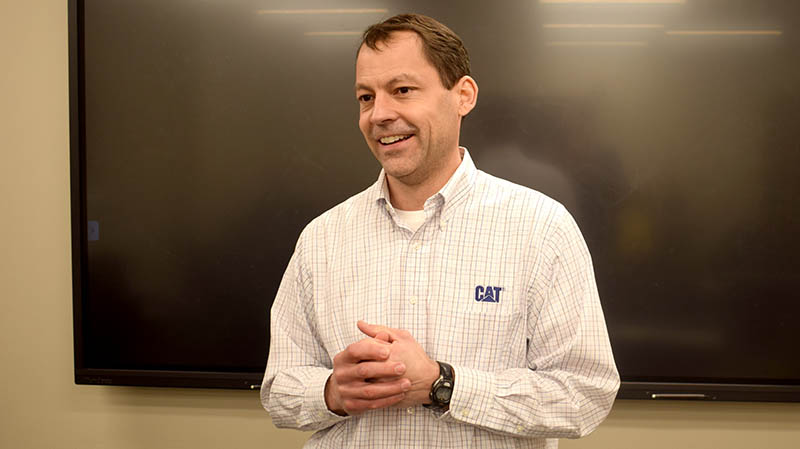 Walk in other people's shoes and understand their perspectives. Have a good attitude when you give and receive feedback. And follow the golden rule — treat others the way you want to be treated. Those were some key pieces of advice Matt Glover, ECE '01, shared with Mizzou Engineering students last week.
Glover is a Senior Engineering Project Team Leader at Caterpillar, Inc., the world's leading manufacturer of construction and mining equipment. He spoke to the Engineering Leadership and Strategic Communications class, which is designed to prepare students for leadership roles.
During his presentation, Glover stressed the importance of listening to — not just hearing — constructive criticism.
"Giving and receiving feedback, like most things in engineering, takes a lot of time and effort to do it correctly," Glover said. "It takes time, practice and experience to do it well."
He stressed that most people have good intentions when they provide feedback. It's up to the recipient to apply it. "You make the choice to change or not to change," he said. "The most successful people have had plenty of criticism in their careers."
Glover has served in a number of positions since joining Caterpillar 20 years ago. In his current role, he leads a team of engineers developing autonomous products such as self-driving bulldozers and trucks for the mining and heavy construction industries. The company recently reached a milestone of 500 Cat® autonomous trucks in operation worldwide that have hauled more than 4 billion tonnes (4.4 billion tons) and traveled more than 147 million kilometers (approximately the distance from Earth to the sun) with zero lost time injuries.
While his Mizzou Engineering studies directly prepared him for the work — Glover conducted undergraduate research around autonomous systems in the early aughts — it mainly provided him a foundation on which to build his skills, he said. Over the years, he has also worked in mechanical and industrial engineering fields within Caterpillar.
"You have to learn how to learn because things change," Glover said. "Mizzou taught me how to learn, which is important because every day there are new challenges. But that is what engineers do – we identify issues and solve hard problems."
Glover is a member of the Electrical Engineering and Computer Science Industrial Advisory Board, the Peoria-Area Mizzou Alumni Association and is a student mentor. He is the lead recruiter of Mizzou students to Caterpillar, which has also sponsored Engineers' Week for the past two years.
"I enjoy coming back to Mizzou Engineering," he said. "It's a great community."
Learn from top professors and industry professionals. Become a Mizzou Engineer!