April 01, 2022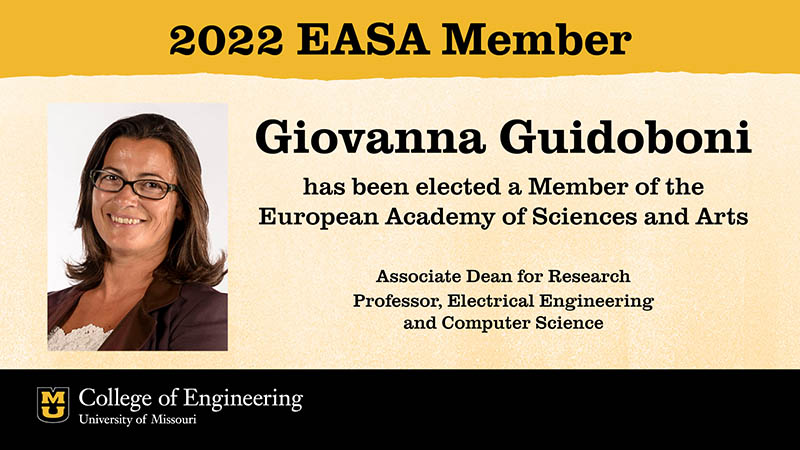 Giovanna Guidoboni has been elected a member of the prestigious European Academy of Sciences and Arts, comprised of eminent scientists and scholars.
Guidoboni is Associate Dean of Research for Mizzou Engineering and a Professor of Electrical Engineering and Computer Science with a joint appointment in Mathematics at the College of Arts and Science.
"I'm honored to have been nominated and elected to this distinguished group," Guidoboni said. "I look forward to representing Mizzou as I connect with other members from Europe and across the world."
The European Academy of Sciences and Arts brings together leaders in medicine, technical and environmental sciences, natural sciences, social sciences, law, economics, arts and humanities. The organization has roughly 2,000 members, including 35 Nobel Prize winners, mostly from Europe. Several Heads of State are the Protectors of the Academy, located in the ancient St. Peter's Abbey in Salzburg.
"We're very pleased the Academy has recognized Giovanna's impact on the international research community," said Noah Manring, Dean and Ketcham Professor. "She exemplifies international, interdisciplinary collaboration, and we all benefit from that."
Guidoboni was selected because of her ground-breaking contributions to precision health care by combining principles of mathematics, physics, engineering and physiology. Her work has contributed to better diagnoses, care and management of glaucoma, cardiovascular disease and other illnesses that impact an aging population worldwide.
Guidoboni's mathematical model led to the discovery that low blood pressure and high intraocular pressure increases the chances of having glaucoma nearly four times. Additionally, she's collaborated with colleagues across the U.S. and internationally on research around cardiovascular disease, COVID-19, noninvasive health monitoring, and human and plant physiology.
Guidoboni co-founded a new interdisciplinary peer-reviewed scientific journal entitled Modeling and Artificial Intelligence in Ophthalmology (Kugler Publications, Amsterdam). Her scholarly work includes "Ocular fluid dynamics. Anatomy, physiology, imaging techniques and mathematical modeling," the first book on ocular fluid dynamics that she co-edited with collaborators from New York and Italy. Guidoboni was recently selected to serve on the editorial board of Scientific Reports (Springer Nature) and Mathematical Biosciences and Engineering (AIMSPress).
The European Academy of Sciences and Arts plans to welcome new members in July during its 32nd Festive Session in Salzburg.
Learn from internationally recognized faculty. Become a Mizzou Engineer!