November 09, 2022
PhD student Omiya Hassan had the opportunity to practice interviewing for jobs in academia during the Rising Stars in EECS career workshop held at the University of Texas at Austin last week.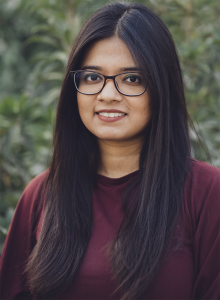 Hassan, a PhD student in electrical engineering and computer science, was one of about 80 graduate students from around the country selected to participate in the prestigious event. Rising Stars began in 2012 at MIT as a way to encourage underrepresented students to pursue faculty careers.
During the three-day workshop, Hassan was grouped with chairs, professors and other Rising Star participants from similar fields.
"We had to present our research in eight minutes, and people in the group gave us feedback," she said. "That was really helpful for me. I understand now how to best explain and organize information for different audiences."
Hassan also took advantage of networking opportunities, meeting department chairs interested in hiring faculty in her area of research.
Mostly, though, the workshop gave Hassan confidence in the fact that others are experiencing the same pressure and challenges of finding a faculty position.
"It was very inclusive," she said. "I met a lot of people from similar backgrounds, so I know I'm not alone in this process. I got a clear idea of what I need to do to apply and present my work."
At Mizzou, Hassan works as a research assistant in the Analog/Mixed-Signal VLSI Devices Laboratory (AVDL) and as a graduate instructor in the department of Electrical Engineering and Computer Science (EECS).
Her PhD research topic focuses on the design and development of low-power integrated circuits (IC) while also investigating artificial intelligence and machine-learning techniques in biomedical applications such as sleep apnea and respiratory disorders.
Hassan has received a number of awards for her accomplishments. She won the Excellence in Research Award from the Graduate Professional Council in 2022, the IEEE Instrumentation and Measurement Society's Graduate Research Fellowship Award, an Outstanding Doctoral Student Award from EECS in 2021 and the 1907 Women in Engineering Student Award in 2019.
The Rising Stars workshop, she said, confirmed her decision to pursue a career in academia.
"It was a lot of fun meeting and talking to chairs and faculty from other. Universities," she said. "I'm excited about the future."
Read more about Hassan here.
Want an engineering program that sets you up for success? Apply today!