March 16, 2022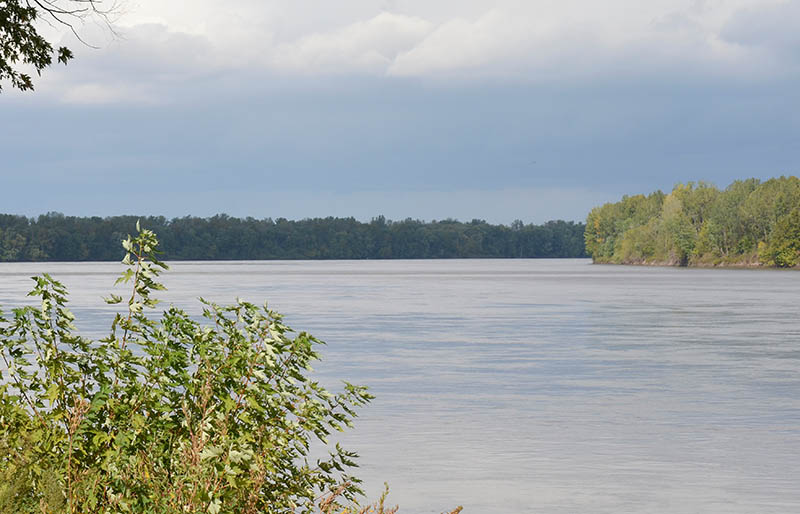 A Mizzou Engineer is leading an interdisciplinary team tasked with creating innovative, practical and balanced ways to manage the Missouri River's water resources. The group will spend the next five years studying current practices and policies, developing new techniques to use water resources more sustainably, designing tools to predict and developing adaptation plans for extreme weather and training students to continue that work in the future.
"We've been managing the Missouri River for more than 100 years, and we want to make sure it stays healthy and accessible to people for the next 100 years," said Noel Aloysius, Assistant Professor of Bioengineering and Natural Resources at  Biomedical, Biological and Chemical Engineering with a joint appointment in the School of Natural Resources and the MU Principal Investigator on the project. "We're looking at various aspects such as reservoir management and farm management, as well as how we cope with extreme weather events such as floods and droughts."
The project is part of a five-year cooperative agreement with the U.S. Department of Agriculture-Agricultural Research Service (USDA-ARS) that began July 1, 2021. Over the past eight months, 13 Mizzou faculty have been developing related research projects to study the biophysical aspects around water quantity and quality, economic impacts of water usage and social considerations around river basin management.
"It's exciting to conduct this research that includes developing and deploying new cloud-based technologies, that use state-of-the-art unmanned aerial systems, artificial intelligence, and low-cost sensor designs that can increase the spatial density of our environmental monitoring," said Sherry Hunt with the USDA-ARS Hydraulic Engineering Research Unit. "These new technologies will innovate the way we collect data. The development of a Decision Support Informatics Platform will serve a vast array of end user decision support tools."
The tools would use dynamic management systems to determine if the models and/or decision support tools would be completed through cloud computing resources or the USDA high-performance computing centers such as SciNET. The ideas are for these cloud-based platforms to become a one-stop-shop for data, reference materials, and digital tools that will serve multiple audiences, such as the USDA Natural Resources Conservation Service, U.S. Army Corps of Engineers, Federal Emergency Management Agency, state agencies, emergency managers, farmers, producers, processors and many more.
"This type of hands-on learning for students is invaluable for teaching our future scientists and engineers the impact they can have on people's everyday lives," said Hunt.
On the physical side, water resource experts on the team are developing hydrologic and hydraulic models for watersheds. That includes compiling existing instrumentation, monitoring techniques and developing new technologies to aid in testing, validating and improving ecosystem model simulations and predictions.
"We will be incorporating new analytical techniques such as artificial intelligence and machine learning approaches to find innovative solutions to manage water in a better way," Aloysius said. "That could mean adapting to changing weather patterns — what are some of the key things we need to consider around farms or management of stormwater in urban areas? How do you operate a reservoir so these extreme events can be managed in a way to minimize damage?"
The group will also assess the economic benefits of water resources infrastructure including dams, reservoirs, levees and canals to mitigate and reduce risks caused by changing weather patterns.
Better maintaining existing water infrastructure could also have economic benefits; for example, minimizing losses during droughts or floods. Similarly, coming up with more effective ways to use irrigation systems can save on costs while also reducing energy use.
On the social side, researchers will identify institutional barriers including policies and regulations and determine how stakeholders view conservation, drought and flood mitigation, water use and other decisions around river basin management.
"Agricultural water management is completely different than flood management, for instance," Aloysius said. "So how can these different entities cooperate and collaborate in order to develop more holistic approaches and solutions. We hope to have a better idea of how to manage the Missouri River incorporating various decisions people make all the way up into the Dakotas where there are large reservoirs. The idea is to collaborate with multiple state agencies to better manage the river's resources while at the same time minimizing human impact and improving access to water."
The final goal of the project is to train future engineers, economists, meteorologists and other experts who can continue this work.
The project is part of ongoing collaborations between Engineering and CAFNR that formalized earlier this month with the announcement of the Missouri Water Center.
"This is one example of how we work and have worked together on innovative research around water quality and water resource management," said Damon Hall, co-director of the center and a Senior Member on the grant. Hall is an assistant professor in the School of Natural Resources with a joint appointment in Biomedical, Biological and Chemical Engineering.
The award will equally fund Engineering and CAFNR doctoral students, he said.
"Education and training students are very important aspects of the Missouri Water Center, so this grant aligns with our mission well," said Baolin Deng, co-director of the center and a professor of civil and environmental engineering. "We need a new cadre of water experts in the workforce to address complex water management issues".
Other Senior Members on the grant include:
Mizzou Engineering:
Kathleen Trauth, Associate Professor, Civil and Environmental Engineering
College of Agriculture, Food and Natural Resources:
School of Natural Resources
Patrick Market, Director and Professor
Patrick Guinan, Associate Extension Professor
Anthony Lupo, Professor
Robin Rotman, Assistant Professor
Rebecca North, Assistant Professor
Alba Argerich, Assistant Professor
Neil Fox, Professor
Division of Plant Science and Technology
Jianfeng Zhou, Assistant Professor
Division of Applied Social Sciences:
Theodoros Skevas, Assistant Professor
Jasper Grashuis, Assistant Research Professor
United States Department of Agriculture- Agricultural Research Service:
ARS Hydraulic Engineering Research Unit
ARS Partnerships for Data Innovation
 Be part of cutting-edge, interdisciplinary research. Become a Mizzou Engineer!