December 19, 2022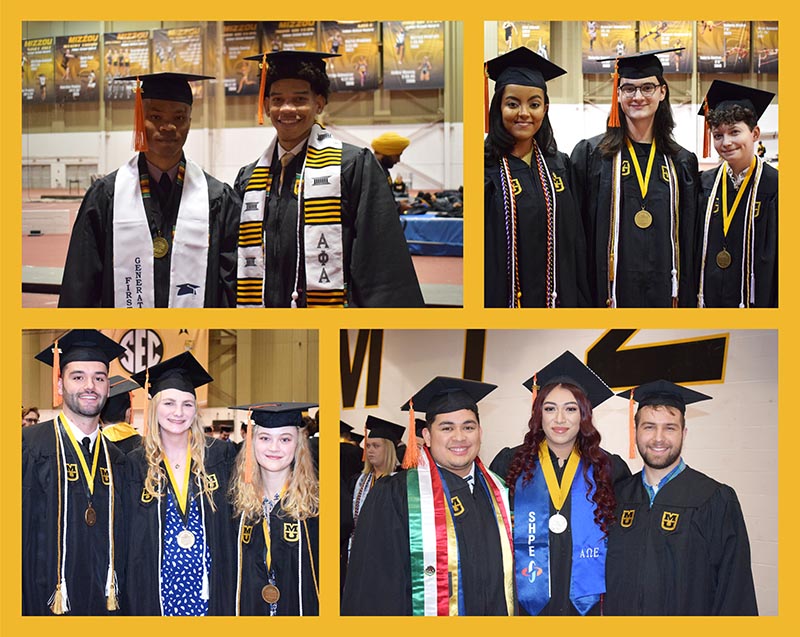 Mizzou Engineers on Friday graduated with the technical and foundational skills needed to solve some of society's most pressing challenges. Dean Noah Manring and Provost Latha Ramchand conferred 175 degrees at Winter 2022 Commencement.
During his remarks, Manring thanked graduated for being a part of the College's 150-year legacy.
"Thank you for your contributions," he said. "Contributions through service to student organizations, through your work to advance research and through the ideas and input you shared in class."
Now, he said, it's time for each graduate to decide the rest of their stories. What they choose will not only shape their future but also future chapters for our world.
"Because, engineers, you are on the front lines of some of society's greatest challenges," Manring said.
Specifically, biological and biomedical engineers will solve medical problems, he said. Chemical engineers will develop solutions around sustainable food and products. Civil engineers will be tasked with overhauling roads, bridges and infrastructure. Industrial engineers will improve supply chains and operations. Mechanical engineers are on the front lines of testing and implementing energy-efficient systems and machines. And electrical engineers, computer scientists and information technology graduates will all play an important role in ensuring technological advances are not only smart but ethical.
"Class of 2022, you will be the generation to usher in a new era in so many key areas," Manring said. "Where others see challenges, I encourage you to look for opportunities. Focus on solutions rather than problems. And when you do, you will write a story that inspires the next generation."
Additional honors
During Commencement Mizzou Engineering also recognized newly commissioned Air Force, Army and Navy officers from the Reserved Officer Training Corps (ROTC). They are:
Aleksandr Buechter, U.S. Air Force, Second Lieutenant; mechanical engineering
Pavel Buechter, U.S. Air Force, Second Lieutenant, mechanical engineering
Sam Kaplan, U.S. Army, Second Lieutenant; mechanical engineering
Luke D. Ridder, U.S. Navy, Navy Ensign; electrical engineering
Faculty and Staff Awards
Prior to Commencement, students are given the opportunity to vote for outstanding faculty and staff members. This spring, the following were recognized:
Biomedical and Biological Engineering Assistant Professor Robert Thomen
Chemical Engineering Director of Graduate Studies and Associate Professor Reginald Rogers Jr.
Civil and Environmental Engineering Associate Professor Brent Rosenblad
Computer Science Associate Professor Michael. Jurczyk
Electrical and Computer Engineering Assistant Teaching Professor Ekincan Ufuktepe
Information Technology Associate Professional Practice Professor Chip Gubera
Industrial and Manufacturing Systems Engineering Chair and Professor James Noble
Mechanical and Aerospace Engineering Director of Undergraduate Studies and Professor Craig Kluever
Career Services Coordinator Anh Nguyen
Academic Advisor Teri Pinhero
Write your story at Mizzou Engineering. Apply today!