December 01, 2022
Plastic pollution isn't just discarded trash, it can also become a vehicle that transports toxic metals into our water. Assistant Professor Maryam Salehi is investigating the mechanisms behind this symbiotic relationship in hopes of mitigating harmful effects.
Salehi is a new faculty member in the Department of Civil and Environmental Engineering. Hired as part of the MizzouForward initiative, Salehi brings to Mizzou a National Science Foundation Early CAREER Award for work around plastic pollutant fate and heavy metal transport.
"My work is at the interface of environmental chemistry and materials science," she said. "I apply my knowledge of materials to identify how plastic materials are acting as a vehicle to transport chemical contaminants within the environment."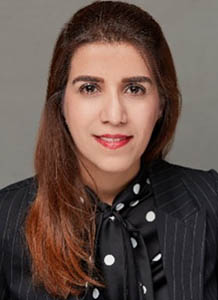 One specific area of her research is whether plastic pipes are truly a sustainable option. While they don't corrode, they can be problematic in that they become a resting site for metals from connecting lines.
"When plastic pipes are connected to a lead service line, the lead can be released and get deposited on the plastic pipe," she said. "As long as it rests there, the water is safe, but as soon as the lead is dislodged, it can end up in tap water."
At the University of Memphis, where she was an assistant professor, Salehi led a project that investigated lead pollution in water at 40 schools within one of the largest school districts in Tennessee. After identifying the sources, she developed a mitigation plan that included new fixtures, filters and other improvements to reduce lead levels to below the acceptable levels.
Salehi also studies how plastic pollution transports contaminants, specifically when single-use plastics exposed to the sunlight, becoming brittle and breaking.
"Disposable plastic can get into the environment as litter, then get fragmented into smaller segments that can be transported by wind, penetrated into the soil and transported by stormwater runoff," she said. "These plastics can then become a vehicle and transport heavy metals from urban environments to freshwater resources or even seawater. I'm investigating the extent of metals that are being transported by plastic and factors influences the ability of plastic to transport them."
Once researchers understand the mechanics of the process, they can come up with mitigation plans to combat pollution.
Now that Salehi is at Mizzou, she's been able to expand her work to investigate how plastics are degrade as being used above and below ground. Specifically, she's studying long-term aging of plastic mulch used in agricultural settings and Ground Tire Rubber being mixed with asphalt for the sustainable pavement materials. The latter is a project being led by Bill Buttlar, chair of flexible pavement at Mizzou Engineering and director of the Missouri Center for Transportation Innovation (MCTI).
Those types of collaborations are what attracted Salehi to Mizzou. In addition to working with MCTI, she is also teaming up with researchers at the Missouri Water Center and the College of Agriculture, Food & Natural Resources.
"At Mizzou, there is great potential for me to combine my research with other areas," she said. "Agricultural research is really strong at this university, and the Missouri Center for Transportation Innovation and Missouri Water Center provide great opportunities, as well. There's a lot to do."
Interested in environmental issues? Study civil and environmental engineering at Mizzou! Apply today.