March 21, 2022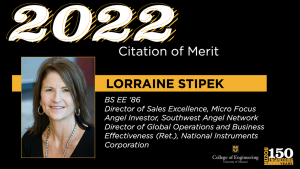 Lorraine Stipek, BS EE '86, has received the College of Engineering's 2022 Citation of Merit Award recognizing her significant contributions to the industry and service to MU.
"I'm extremely honored," she said. "There have been so many incredible alumni who have graduated and have done some amazing things for the University. It's so gratifying because it means some of the things I've done have had a positive impact. And that feels great because all we want to do is have a positive impact."
Stipek has served on the Dean's Advisory Council, helped develop undergraduate labs, collaborated on energy projects with MU's research office and has spoken at Commencement and other engineering events.
"Lorraine has also been a strong supporter and advocate for women pursuing a degree in engineering," her nominator wrote.
On that front, she leads by example. Stipek began her career as a test engineer at McDonnell Douglas at a time when not many women were working in engineering. While there, she also earned a Master of Business Administration from Washington University.
Stipek then joined National Instruments, a company comprised of engineers who makes test and automation products to sell to other engineers. There, she rose in the ranks from technical sales manager to executive leadership at the company's Texas headquarters.
As Director of Global Business Solutions and Operations, and then Director of Global Operations and Business Effectiveness, Stipek assessed industry needs across five continents, customizing services while saving millions in staffing optimization strategies. She evolved sales capability and capacity from a transactional to a systems selling model, scaling the business from $500 million to more than $1.25 billion in revenue.
More recently, Stipek oversaw the go-to-market strategy for a spin merger between Micro Focus and HPE Software.
Today, she serves as an Angel Investor for Southwest Angel Network.
"We focus on supporting start-ups that have a social impact on society, mainly in areas of sustainable energy and health," she said. "We really look for companies that are looking for investors who will provide funding, guidance and mentorship and companies where we think we can help them have a social impact on society. We're one of the few social impact Angel networks."
Southwest Angel Network also focuses on promoting underrepresented CEOs.
Throughout her varied career, Stipek said she's relied on the critical thinking skills she learned at Mizzou Engineering.
"There are all of these different paths you can take because engineering gives you critical thinking skills and gives you a way of making decisions and problem solving," she said. "You can use that for so many different things in the world. I really like to be able to set that example and show the breadth and depth of what an engineering degree can do for somebody."
That's why it's been important for her to give back to the College, she said.
"These are the engineers of our future, and we need to be investing in them," she said. "I truly believe the young people who come out of school with an engineering degree will be the critical thinkers of the future, and we need that. We need to encourage young people to go into engineering and to make sure they know how important these degrees are to the future of society."
Read more about the Citation of Merit Award.