May 08, 2023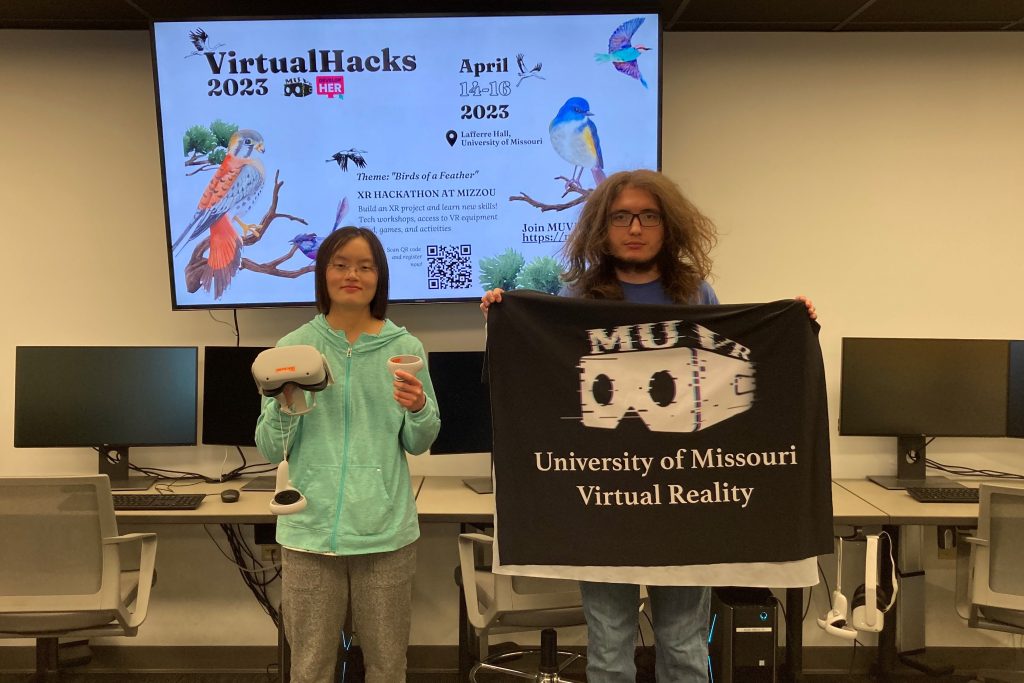 Have you ever wanted to fly like a bird, complete tasks as a goose, or step inside the 2013 viral game, "Flappy Bird?" Extended reality (XR) makes it possible, as more than two dozen students demonstrated at a recent XR hackathon.
VirtualHacks 2023, "Birds of a Feather," was co-hosted by the University of Missouri Virtual Reality Organization (MUVR) and Develop[HER], two student organizations in the College of Engineering.
Focused on extended reality, the 48-hour hackathon was open to projects based in augmented reality (AR) and virtual reality (VR), but also traditional computer programs as well, to allow anyone interested to work in the format of their choice. Students had the flexibility to participate virtually in addition to in-person at Naka and Lafferre Halls.
"About 30 people signed up, and around 20 participated in person," said Stuart Aldrich, MUVR President. "We ended up with 9 finished projects submitted by groups and individuals, which is a significant increase in engagement from the last few years. This year felt like a successful hackathon."
While students worked on their projects, the organizers hosted workshops to introduce students to new skills and tools, such as WebXR, the Unity game engine, and Blender, as well as breaks for fun activities, including a cup stacking competition, board games, and a session of the VR music rhythm game Beat Saber. The WebXR workshop was led by Erika Zhou, a senior computer science student, while the others were led by Mizzou Engineering faculty.
"Michael Tompkins led a Blender workshop that I enjoyed because Blender is a 3D modeling tool I was interested in," Zhou said. "And Dr. Andrew Buck gave a demonstration of AR drones that was very interesting."
Zhou currently serves as treasurer for both MUVR and Develop[HER]. She emphasized the partnership between the two organizations as one factor contributing to the success of the event.
"I gave an introduction to the Develop[HER] at the opening ceremony of VirtualHacks, and we collaborated with them on hosting a few of the events," Zhou said. "One of the winning projects was completed by Develop[HER] president, Jade Neeley."
Neeley won the Overall Experienced category for her project, a parody of Untitled Goose Game. Other winners include:
Drew Byrd and Caleb Meeks won Overall Beginner for Bird Watch.
Jonathan Gutierrez, Maggie Hilty and Aurora Potter won the Visual category for a game about finding a hidden bird in a forrest.
Jack Akers won Best Use of Linux for Bird Proompt.
Tyler McArthur won the Theme category for Bird Flight.
Austin Barr, Caleb Foster, Edmund Hernandez and Sebantu Mukanya won the Technical category for Penguin on a Motorbike.
Caleb Horsch and Jules Maslak-Hopper won Best use of AR/VR/XR for VR Flappy Bird.
All of the projects submitted for VirtualHacks 2023 are available for viewing in the event's Devpost project gallery.
Outside of the hackathon, MUVR aims to make VR more accessible to Mizzou students. They meet regularly at workshops where they have collaborated on a group project (the current project is a dungeon crawler game, similar to a VR version of Spelunky), and members also may work on personal projects.
"We are very open to beginners and have hardware that people can check out if they want to develop on their own VR or experience virtual reality," Aldrich said. "We understand that for college students, $300-400 for just a beginner-level headset can be unreasonable for most college students to afford. So, we try to make sure we have hardware available that people can use and borrow."
MUVR also has several games available for students who check out the headsets to be able to play and experience VR.
Throughout the year, MUVR actively creates opportunities for students to engage with VR across campus. They collaborate with the Mizzou Campus Activities Programming Board (CAPB) on campus events, including the Spooktacular around Halloween and Break the Ice at the beginning of the spring semester, and they also work with other Mizzou Engineering organizations to host inter-organization game nights in Lafferre Hall.
Students can get involved with MUVR by joining their Discord server.
Get opportunities to explore emerging technologies through your extracurriculars. Choose Mizzou Engineering!