March 20, 2023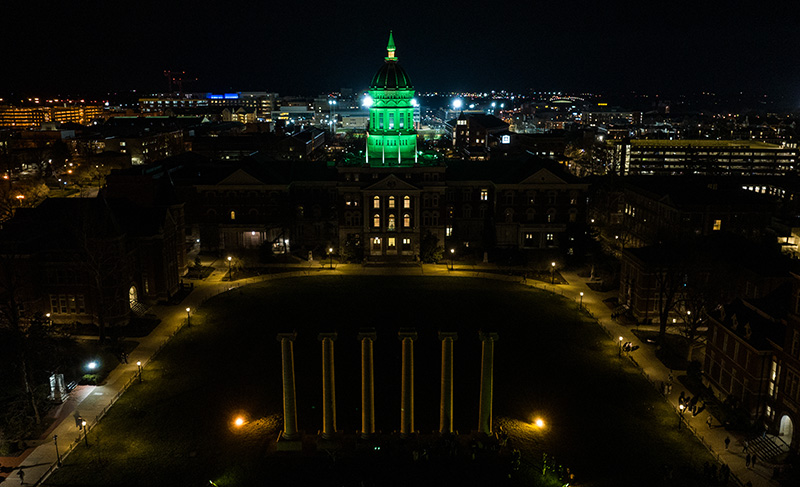 Engineers' Week went "Pat to the Future" this year, a nod to both the 120th anniversary and a new era of innovation at Mizzou Engineering.
E-Week is a celebration of all things engineering. It began at Mizzou in 1903 when engineering students first "discovered" that St. Patrick was an engineer. Needing an excuse to take a break from rigorous academics, students left campus for a downtown celebration — a St. Patrick's Day parade of sorts that has since spread to engineering colleges across the country.
Today, Mizzou students continue to honor century-old traditions over nine days, while also celebrating engineering research — including studies around the drones, wearable technologies and flying cars predicted in the Back to the Future films nearly 40 years ago.
Scroll down to travel with us back through the highlights of E-Week 2023.
The celebration kicked off with the Cheers to Engineers Alumni Happy Hour at The Heidelberg. The event brings together multiple generations of Mizzou Engineering alumni and the E-Week king and queen candidates.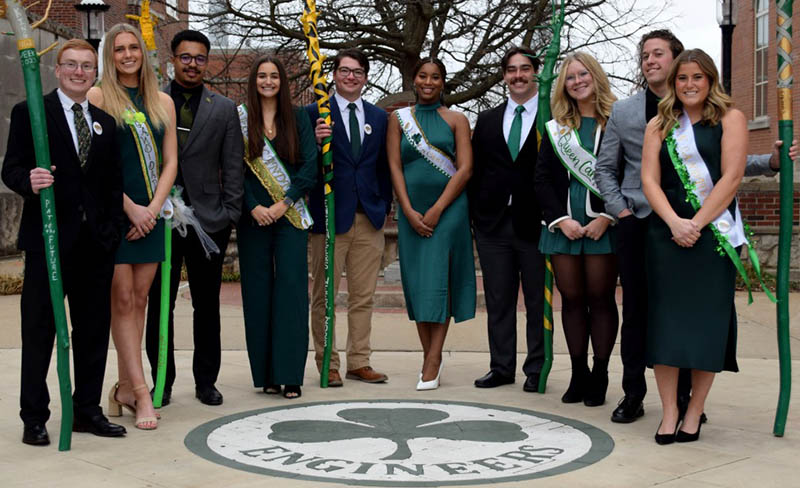 Marty McFly had his "Doc," we have ours. Beloved Professor Dave Wollersheim—known to many as "Doc" — was the man of the hour on March 10, celebrating the fully funded Dave Wollersheim Professorship in Mechanical and Aerospace Engineering at a reception before joining fellow alumni at the happy hour.
Crowds of alumni, students, faculty, staff and friends gathered on Francis Quadrangle and Shamrock Plaza to watch as Doc Wollersheim flipped the switch, casting a green light across central campus.
"Today marks the 34th year that Jesse Hall's dome will shine green across the MU's campus for Engineers' Week," said Lane Atchison, Engineers' Week co-chair. He and Kate Sherard, co-chair of Engineers' Week, set the stage for the dome lighting by returning to the history of Mizzou E-Week.
"The green lighting of Jesse Hall's dome has become a beacon for MU Engineering," Sherard said. "It signals the arrival of Engineers' Week and the annual return of St. Patrick, and reflecting the engineers' proud history of enlightening Mizzou."
Dr. Emmett Brown may not have needed roads where he was going, but they were key for engineering students navigating Columbia during the Road Rally scavenger hunt on Saturday, March 11. The following day, students, alumni and friends took tot he sidewalks for a 5K/10K Walk, Run and Roll. A partnership with the College of Arts & Science, the 5K/10K doubled as a fundraiser for Habitat for Humanity.
Cold temperatures and a few snow flurries on Monday of E-Week didn't stop students from enjoying hot dogs during the Hot Dog Banquet, a picnic outside of Lafferre Hall on Monday afternoon.
One of the most anticipated days of E-Week is Lab Exhibits, when hundreds of elementary, middle and high school students visit Lafferre Hall to explore the awesome applications of engineering. This year, they experienced virtual and mixed realities, saw the Mizzou Formula SAE car and learned about different types of chemicals and materials.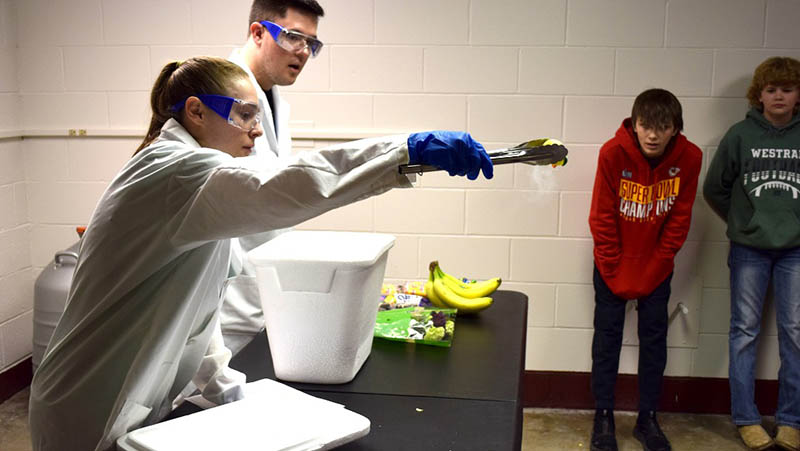 When they weren't teaching younger students about engineering, Mizzou Engineers were learning from alumni. Professor for a Day brings in industry leaders to talk to students about how they'll apply their studies in the workplace.
This year, guests came from companies including Microsoft, World Wide Technology, Boeing, Procter & Gamble, ARCO Construction and the Missouri Department of Transportation.
St. Patrick himself made an appearance on March 17 to recognize the hard work of senior engineering students and honorary guests. The Knighting Ceremony and Grand Kowtow are traditions dating back to the early 1900s.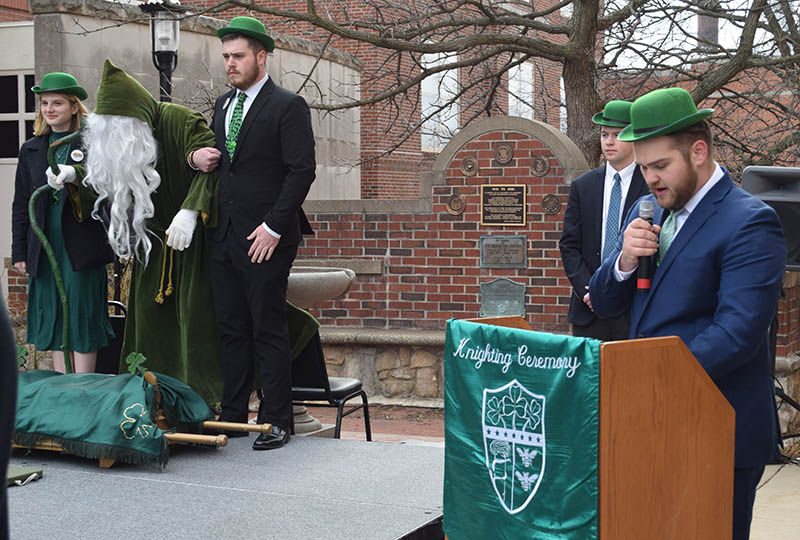 On Saturday, students gathered to celebrate women in engineering at the Ada Wilson Green Tea Lecture. This year's speaker was Evelyn Watson, BS EE '04, director of continuous improvement at Perdue Farms and a member of the College's IDE Alumni Advisory Council. The event is named after Ada Wilson, Mizzou's first female engineering graduate.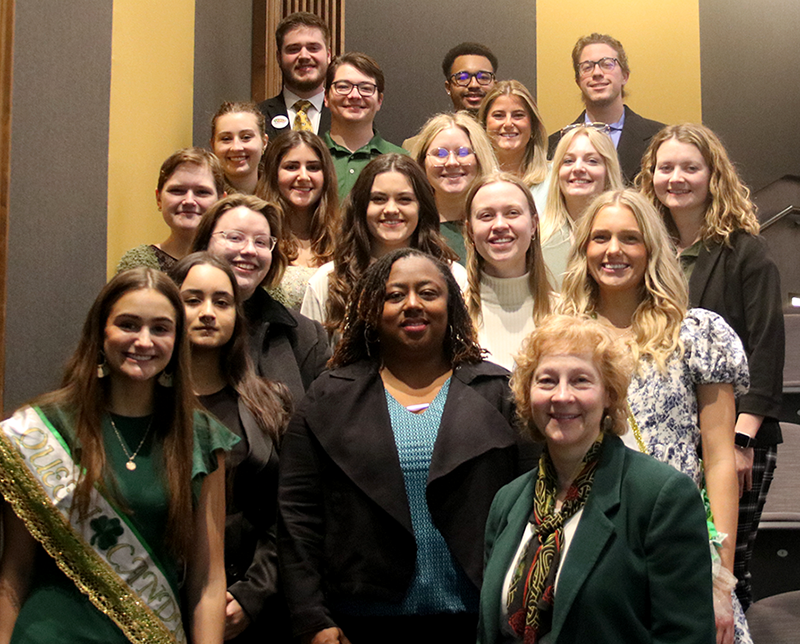 Engineers' Week wraps up with the St. Patrick's Ball featuring dinner, dancing and the crowning of a queen and king. The ball is one of the oldest E-Week traditions, dating back to 1905. This year's Engineers' Week King and Queen are Trenton Foster and Kyarra Gorham.
Want to enjoy traditions of the past while researching emerging technologies? Visit campus to explore engineering programs and labs, and plan to be a part of Engineers' Week 2024. To the future!