February 09, 2023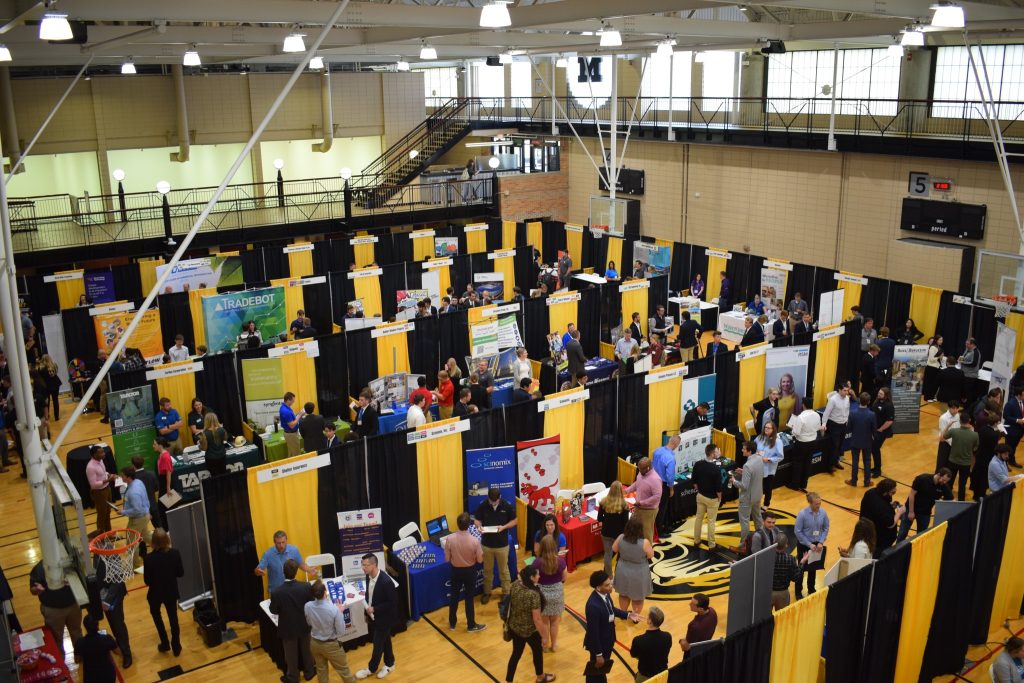 Students looking for a summer internship or employment after graduation — or even those who simply want to explore career options — should make plans to attend Mizzou Engineering's 2023 Spring Career Fair. The fair will be from 10 a.m. to 3 p.m. on Thursday, March 2, at MizzouRec.
Around 200 employers are expected at this year's Career Fair, including representatives from ALSTOM, Burns & McDonnell, Central States Water Resources, Honeywell, Toyota, Boeing, Brainlab, BioMerieux, as well as governmental agencies such as the Central Intelligence Agency (CIA), U.S. Army Corps of Engineers (Kansas City & St. Louis District) and U.S. Department of State (Bureau of Diplomatic Security).
"Even if you're not sure where you want to work, this is a great way to network with top engineering firms, companies and agencies," said Anh Nguyen, career services coordinator. "These companies want to get to know our students because they know Mizzou Engineers are prepared and excited to apply foundational engineering skills to industry settings. This is a perfect opportunity to get a better feel for all of the career options available."
Prepare for the Fair
Preregister for the Spring 2023 Mizzou Engineering Career Fair on Handshake. You may also use the platform to upload and have your resume reviewed.
Prepare for the fair at an upcoming workshop.
Comparing Job Offers
Monday, Feb. 13 | 4 – 5 p.m. | Lafferre W1005
Kick Start Internship/Co-Op Search and Intern Panel
Wednesday, Feb. 15 | 4:30 – 6 p.m. | Lafferre W1005
Career Fair How-To
Tuesday, Feb. 21 | 12 – 1 p.m. | Lafferre W1005
Engineering Mock Interviews
Thursday, Feb. 23 | 10 a.m. – 3 p.m. | Lafferre C2200, C2201, C2202
Mad Dash Resume Reviews
Tuesday, Feb. 28 | 10 a.m. – 3 p.m. | Engineering Library
Tabling Meet and Greets
Wednesday, March 1 | 9 a.m. – 2 p.m. | Lafferre hallway
Lunch & Learn
Wednesday, March 1 | 12 – 1 p.m. | Ketcham Auditorium and Lafferre W1004
Professional Development Workshops
Wednesday, March 1 | 3 – 6 p.m. | Lafferre W1004, W1005, E1419, E3508, E3509, E3510, E3511
Reverse Career Fair
Wednesday, March 1 | 6:30 – 8:30 p.m. | Lafferre first floor, lab spaces
Next-Day interviews will begin at 8 a.m. Friday, March 3, following the Career Fair.
Spring 2023 Engineering Career Fair Sponsors
Thank you to the following sponsors:
Gold sponsors:
ALSTOM
Burns & McDonnell
Central States Water Resources
Honeywell
Silver sponsors:
Altec
Emerson
Hitachi
Ingersoll Rand
Unilever
Bronze sponsors:
Ameren
Cochran
FM Global
Parker Hannifin Corporation
WEG Electric Corp
Learn more about the Mizzou Engineering Career Fair here.