May 01, 2023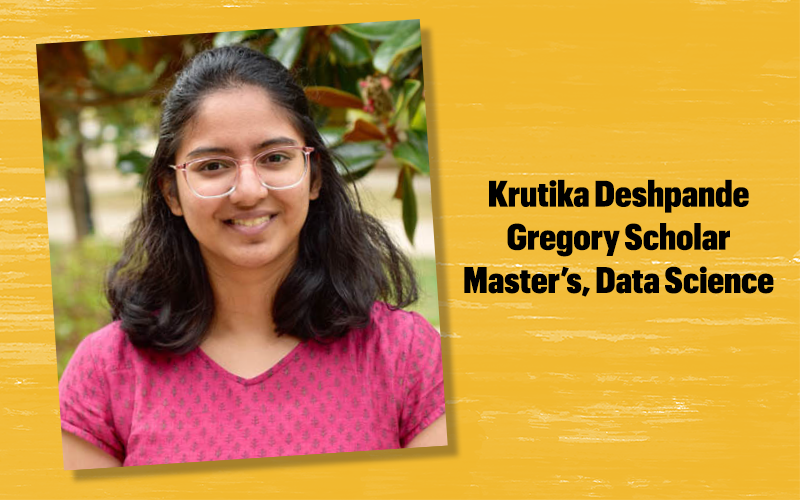 Augmented reality (AR) can be an effective tool for brands to engage with consumers, so long as the features are useful, enjoyable and easy to activate.
Those were some of Krutika Deshpande's findings from her recent research project around the use of AR and storytelling by brands. Deshpande — a master's student in data science and part of an interdisciplinary research program — presented the work at Show Me Research Week last month.
"AR is a rising technology allowing advertisers to get interactive with consumers," Deshpande said. "But it has to be more than just an entertaining feature. It has to be useful and make people feel like they're learning something from it."
For the project, she and collaborators Ting-Hao Tsou, a Ph.D. candidate and advisor Shelly Rodgers, Ph.D., in strategic communication, took a two-pronged approach. First, they reviewed the literature, focusing on three case studies from beverage companies. Then, they surveyed 1,000 consumers to see what they thought about using companies' augmented features and AR in advertising.
They found that AR elements which activated automatically were more effective than features that required users to download applications. And while AR experiences that were useful and enjoyable positively impacted users' attitudes about brands and intentions to buy products, consumers also have privacy concerns. For instance, not everyone is comfortable uploading their own photos to merge with virtual components.  
The project is one of several coming out of the Gregory Scholars Program, a new program at the Missouri School of Journalism that allows students from across campus to couple their areas of interest with applications around strategic communication.
Deshpande is among the inaugural cohort of six Gregory Scholars, which is under the leadership of Rodgers, the Maxine Wilson Gregory Chair in Journalism Research.
"Krutika brings a unique data science perspective and skillset as an invaluable member of the Gregory research team," Rodgers said. "The research is cutting edge, rigorous and impactful in the wider academic realm, and has important implications for industry, policy, and society at large."
Through the program, scholars are paired with graduate research assistants, including Tsou, who help them develop an appreciation for the role of research in building strong communities.
"The Gregory Scholars Program has been completely new to me and a great experience so far," Deshpande said. "What I love about it is that it's very diverse in terms of different disciplines and a mix of undergraduate and graduate students. I'm learning a lot about journalism and doing data analysis on journalism data."
The data science master's program — a top-ranked degree under the helm of the MU Institute for Data Science & Informatics — provided a strong foundation for that interdisciplinary work, Deshpande said.
"The master's in data science is a very strong program," she said. "We learn about the whole data science life cycle — data mining, visualization, machine learning and statistics — before selecting an emphasis area such as geospatial data, which is what I'll focus on next semester. It's a very hands-on program, which is what I love about it."
Learn more about the Master of Science in Data Science, ranked 7th best by Fortune | Education, here.
Learn more about the Gregory Scholars here.