May 31, 2023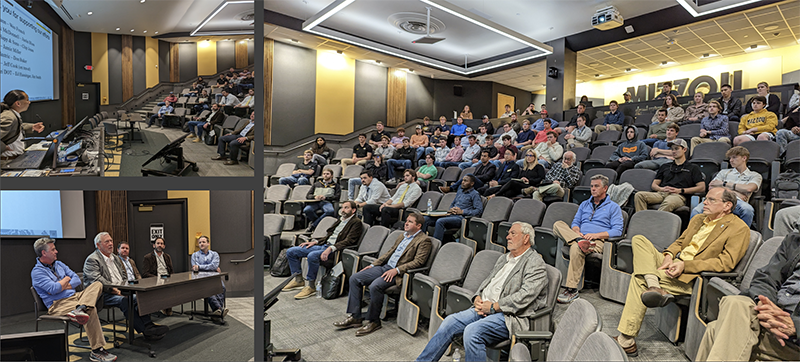 Mizzou Engineering continues to expand programming around construction management with assistance from industry representatives from some of the top firms in the country.
The Construction Management Industry Consortium at Mizzou held its spring meeting on campus this month with nearly 90 attendees. The consortium, now in its second year, is comprised of six companies: ARCO, Brinkman Constructors, Burns & McDonnell, Emery Sapp and Sons, Kiewit and P&D Electric.
"We appreciate these industry partners working with us to shape academic programming and extracurricular opportunities for our students," said Praveen Edara, chair and professor of civil and environmental engineering. "They're helping us ensure our programs are relevant, innovative and meet the needs of today's employers."
Mizzou offers a construction management minor and a graduate certificate in construction management, with courses available both online and on campus. Students take an introductory course and a class on legal issues concerning public works and construction, before choosing from electives such as building information modeling, management and contracting. Programming is offered in conjunction with the Trulakse College of Business and the Department of Architectural Studies.
The need for construction management professionals is on the rise, Edara said. He noted that the significant surge in investment in civil infrastructure through the passing of several recent federal legislations (IIJA, CHIPS, and Climate, Tax, and Healthcare Law) has created tremendous opportunities for students interested in construction careers. From renewable energy projects to new airport and railroad projects there are myriad opportunities for students to work on industrial projects.
"As Missouri's flagship land grant university, we're uniquely positioned to help train students to meet construction management workforce needs," Edara said. "Our students are excited about career possibilities and they appreciate knowing that industry professionals have been involved in shaping our curriculum."
ABOUT OUR PARTNERS:
Interested in joining the Construction Management Industry Consortium? Contact Praveen Edara at edarap@missouri.edu.