April 26, 2023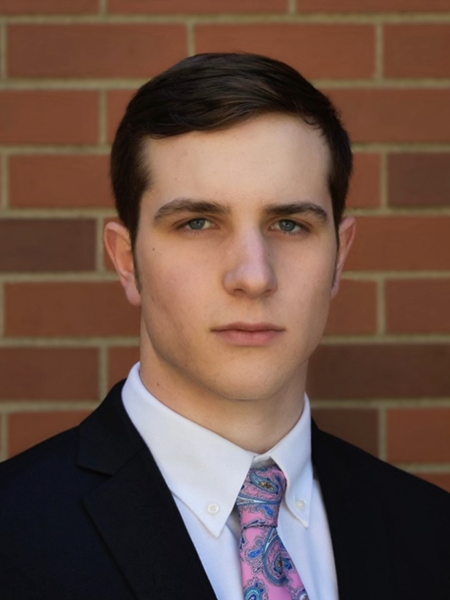 Lucas Kuehnel, who will graduate in May with a bachelor's degree in chemical engineering, has received a 2023 National Science Foundation (NSF) Graduate Research Fellowship.
He will use funding from the prestigious Fellowship to transition into a PhD program at Mizzou, where he will conduct research under the mentorship of Professor Patrick Pinhero. The award covers three years of a graduate program.
"I am honored to receive this Fellowship to support my PhD," he said.
Kuehnel has been on track to attend graduate school since he first began undergraduate research as a sophomore. That summer, COVID was still restricting external opportunities such as internships, so he accepted an opportunity to conduct undergraduate research.
In his first lab experience, he worked under a graduate student to optimize the extraction anthocyanin compounds from colored corn cultivars under the guidance of Pavel Somavat, an assistant professor of chemical engineering with a joint appointment in the College of Agriculture, Food and Natural Resources.
During the summer after his sophomore year, he became involved in a second lab more focused on chemical engineering working under Pinhero. The research pertained to different processing techniques for ceramics, primarily focusing on the effects of microwave sintering (a process like the firing of ceramics in pottery) on microstructure and various transport properties. He looked at applications for this sintering method in mixed oxide fuels and solid oxide fuel cell components.
As an undergraduate, Kuehnel has also taken advantage of extracurricular opportunities. He participated in Mizzou's student chapter of the American Institute of Chemical Engineers and has served as co-president of the Chem-E-Car team.
"We worked hard to revitalize the club over the past couple of years, so I'm proud and excited to have been a part of that," he said.
In his PhD program, under Pinhero, Kuehnel plans to pursue research around terahertz energy using photonic crystals.
"Dr. Pinhero is doing a unique subset of research around terahertz energy harvesting," he said. "There are few in the country who have worked so extensively in the area, and he's one of them."
While Kuehnel hasn't yet decided where he'll work following graduate school, he plans to continue in academia should the opportunity arise. Working with younger students has become a passion for him over the past couple of years. He has worked as a Peer Learning Assistant within the chemical engineering program and provided mentorship to the younger members of the Chem-E-Car Club. He and his partner, Campbell Sweet, also a chemical engineering major, have visited several high schools across the state to talk to classes and clubs about engineering opportunities.
"While in graduate school, we certainly plan to expand on the outreach we've already organized; it's important to me and part of the reason I want to teach," he said. "The outreach Campbell and I have done is probably my proudest accomplishment."
Kuehnel is one of two Mizzou Engineers to receive an NSF Graduate Research Fellowship this year. For Brooke Runge, the Fellowship has expanded her options when she completes her master's in electrical engineering. Read her story here.