July 10, 2023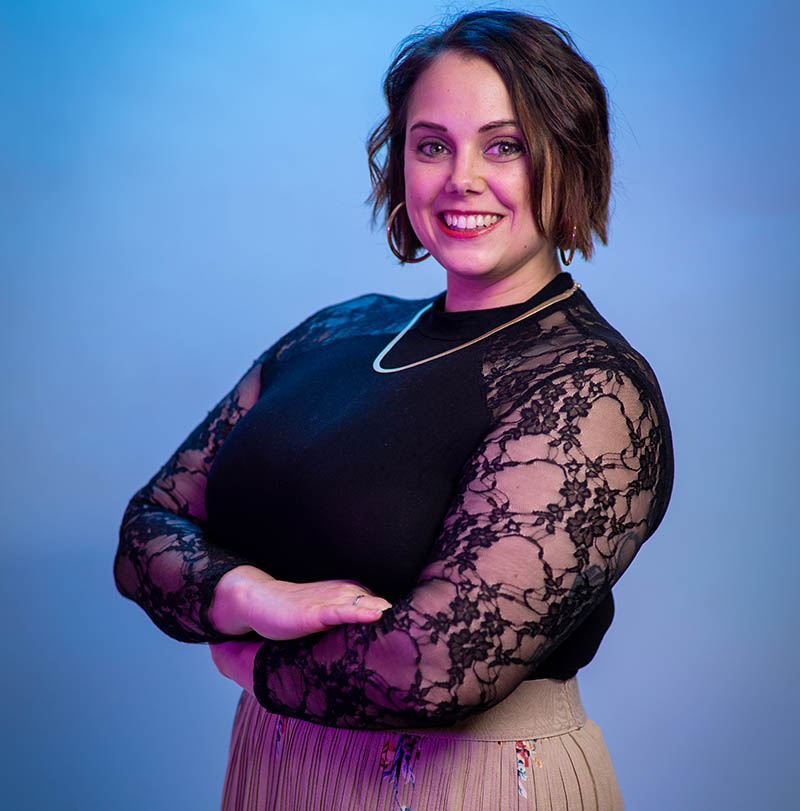 Erica Martin, BS CS/IT '08, has had a whirlwind couple of years. Her business, Pixel Jam Digital, celebrated its fifth anniversary this summer with a current roster of roughly 100 clients from across the globe seeking website and digital design services. Last year, she launched an online database of medical, social and other resources. And she's been to a few awards ceremonies — Pixel Jam Digital was named a Columbia Area Chamber of Commerce Small Business of the Year finalist this summer, and — much to her delight — Martin received the "Nerd of the Year" award from a local non-profit.
Despite her jam-packed schedule, Martin jumped at the opportunity to join the new Department of Engineering and Information Technology Industrial Advisory Council. For her, it was a way to use the skills she honed at Mizzou Engineering to give back while also encouraging diversity within engineering.
"Professor Chip Gubera reached out to me last summer and told me they were putting this committee together and wanted people they knew would be active," she said. "So, of course, I was like, 'Yes, sign me up, that's me.' But it also reminded me of how I felt when I was one of four women in the computer science department. Representation is extremely important. I thought 'what can I do on the council that would make other women and students in general feel safe, comfortable and confident that they can succeed?"
Now interim chair of the IAC, Martin helps guide curriculum and programming, while providing industrial input for accreditation. As part of IAC duties, she joined fellow council members to judge senior capstone projects this spring.
"I was so overwhelmingly impressed by some of the projects, not just by the functionality or design, but the business planning in general," she said. "I know how much thought and effort they put into it, and I was impressed to see that at an undergraduate level."
From fashion to passion
Martin grew up in what she calls the gateway computer era, and she was passionate about programming from the get-go.
"At that time, households had a dedicated computer room with a huge monitor and came in a box that looked like a cow," she said. "I remember when we got our first computer. I set up an AOL profile and discovered ASCII code, the most basic version of digital design, and I would customize my profile daily."
She soon found herself helping friends personalize their MySpace profiles and exploring web design through the once-popular web hosting service, GeoCities.
Not realizing yet she could turn that passion into a career, she enrolled at Stephens College to study fashion design. When she took Calculus I "for fun," a professor suggested she look into engineering at Mizzou. By sophomore year, she had transferred to information technology, then under the umbrella of computer science, with a minor in fine art.
"The crossover of studies really kept my interest piqued," she said. "I could do the math and programming, and then do colorful design and aesthetics an hour later."
Academically, she surpassed male classmates, ultimately leading a capstone project that took second-place in a statewide competition and helped IT at Mizzou snag its first award as a program.
In addition to leadership, she gained foundational and analytical skills that helped her navigate industry before ultimately branching out on her own in 2018.
"Mizzou Engineering really set good expectations for me in terms of learning how to learn," she said. "It helped me learn to break things down granularly, which has helped with business ownership."
Today, Pixel Jam Digital offers a full range of web design, custom development and analytics services. Her client base has grown from contracting with other brand and design agencies to working directly with businesses around Missouri to servicing companies as far away as Australia.
Changing the world, one pixel at a time
During the pandemic in 2020, Martin began noticing a hodgepodge of social service messaging scattered across her social media channels. One organization was offering food assistance, another transportation, another medical screenings and so on.
To better organize these resources, she created an online database to serve as a one-stop shop for users. When other organizations began launching similar databases, she paused the project but returned to it last year, expanding the scope and type of resources.
"I decided to relaunch it in 2022 with the long-term goal of building it on the Decentralized web, a different foundation of the internet that's more private and secure," she said. "The whole premise is you can go to a website that doesn't track your data and find unbiased information."
The site, Help Radar, connects users to food, legal assistance, LGBTQIA+ support, mental health services and more. Currently, she manually populates the site with mostly regional resources but ultimately hopes to expand it across the country with representatives in each state to keep content current.
It's just another way she's using her Mizzou Made expertise to give back.
"I like to joke that I want to save the world through web design," she said. "But what I mean is that I want to use my knowledge to build tools that end up helping people."
Learn more about the information technology program at Mizzou Engineering.