March 10, 2023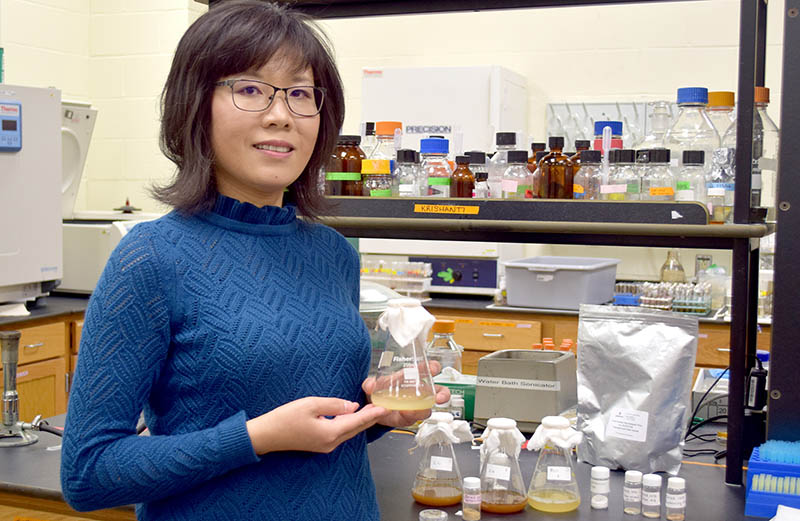 A Mizzou Engineer is helping researchers at Virginia Tech develop a process to convert food wastes into biodegradable plastics.
Caixia "Ellen" Wan is an associate professor of chemical and biomedical engineering and a bioprocess engineer. She's part of a team that received a $2.4 million grant from the U.S. Department of Agriculture (USDA) to upscale bioplastic production with the goal of replacing petroleum-based plastics while also keeping leftovers out of landfills.
"Mizzou is a collaborator on this bigger project," Wan said. "I'm responsible for biosynthesis of biodegradable plastics. I'm working on process development and bioreaction optimization for producing bioplastics from food wastes."
The first-of-its kind project aims to solve two significant problems. Because bioplastics are made from plant and animal products that naturally degrade, they can replace traditional plastics that have harmful effects on the environment, especially marine life. On the other end, diverting food scraps from landfills can significantly reduce greenhouse gas emissions.
Wan will convert different categories of food wastes, such as vegetables, bread and meat, using microorganisms that can process various substrates into polyester biopolymers for plastic materials.
"There's no one method that can be applied to all types of food wastes," she said. "Food can have proteins, carbohydrates and fats, so we're looking at how we can use those to develop value-added products. We have to have different conversion methods for different types of wastes."
Other researchers on the team are developing a large-scale system to use Wan's techniques and mass produce new types of plastics for cups, bottles, films and other consumer products. Another expert is evaluating commercial potential.
Zhiwu "Drew" Wang, an assistant professor of Biological Systems Engineering at Virginia Tech and director of the Center for Applied Water Research and Innovation, is PI on the project. The team also includes researchers from the College of Natural Resources and Environment at Virginia Tech and Iowa State University. Quasar Energy Group is an industrial partner.
For her part of the project, Wan received $462,500 of the grant.
"The ultimate goal is to use food wastes to produce biodegradable plastics in a circular bio-economy context," she said. "This system includes converting food wastes, extracting and purifying products and applying bioplastics. However, before we can proceed, we need to first solve the issue of biosynthesis of biodegradable plastic from food waste."
Learn more about the Department of Chemical and Biomedical Engineering at Mizzou.