August 14, 2023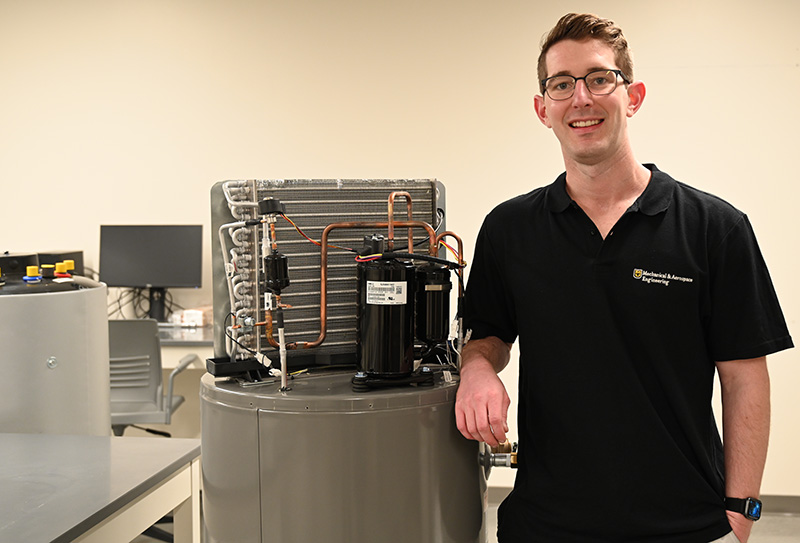 A Mizzou Engineer has been selected to participate in a U.S. Department of Energy (DOE) research fellowship program designed to support graduate students working on energy-related research.
As part of IBUILD: Innovation in Buildings Graduate Research Fellowship, Jeremy Spitzenberger will continue to conduct research around thermal management with additional opportunities for mentorship and training.
"This will allow me to get more industry experience, attend networking events and explore future opportunities," Spitzenberger said. "It will expand my circle of collaborators and, if successful, I'll be able to take what I know to release a product or even start a company. It's definitely exciting."
IBUILD is sponsored by the Building Technologies Office of the DOE, Energy Efficiency and Renewable Energy. It's managed by Oak Ridge National Laboratory and administered by Oak Ridge Institute for Science and Education. In addition to training, the program provides tuition and stipend funding.
Spitzenberger is a third-year Ph.D. student in mechanical engineering. He earned a bachelor's in physics at Rollins College, where his advisor, Associate Professor Christopher Fuse, recommended he consider Mizzou for graduate school
Spitzenberger was sold on Mizzou Engineering after being connected with Hongbin "Bill" Ma. In addition to serving as Curators' Distinguished Professor and chair of mechanical and aerospace engineering, Ma is the creator of the Burnout Mug and co-founder and president of ThermAvant Technologies and co-founder and CEO of ThermAvant International.
"Dr. Ma's research is the field I want to get into, and his company and results speak for themselves," Spitzenberger said.
At Mizzou, he's working with Ma on fluid thermal management applications, specifically looking at ways to improve efficiencies in water heaters.
Water heaters on the market today rely on refrigerants to absorb heat from warm air.
"The problem with current systems is they are inefficient and waste heat. Plus, the refrigerant coolants contribute to global warming," Spitzenberger said. "We're looking to add an ejector into the system that would recycle wasted heat back into the system itself, using environmentally friendly refrigerants."
Spitzenberger — who recently returned from the International Energy Agency's Heat Pump Conference in Chicago — began his IBUILD appointment this summer, working out of Ma's Multiphysics Energy Research Center at Mizzou. He hopes to ultimately be part of commercializing the ejector component, which could be sold to water heater manufacturers to improve system efficiencies, saving homeowners' money and reducing environmental impacts.
He credits his undergraduate research for the success he's enjoying today.
"I definitely recommend doing research and getting into the lab early," he said. "I wasn't sure about graduate school at first, but I fell in love with research. Finding new things is exciting, and when something works, it's very rewarding."
Discover new possibilities. Learn more about mechanical and aerospace engineering at Mizzou.