February 08, 2023
A Mizzou Engineer has found a way to improve light-emitting diodes (LEDs), reducing the harsh blue hue associated with LED light fixtures.
It's another step toward Peifen Zhu's goal to create lighting technology that's safer and more energy efficient. But there's still work to be done, and Zhu is seeking undergraduate and graduate students to help.
"I'd love to have more students assisting in this research area," said Zhu, who started as an assistant professor in electrical engineering and computer science last year. "Being part of real-world efforts to improve sustainability is exciting, and the work can lead to new opportunities. Former students of mine have gone on to publish papers, receive a fellowship for graduate study, and work at Intel."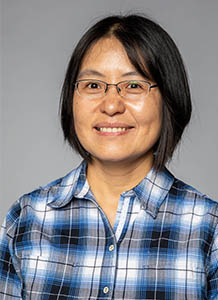 Supported with a Faculty Early Career Development (CAREER) Award from the National Science Foundation, Zhu develops materials that can be used to replace incandescent light bulbs, which are not efficient, and florescent lights that use mercury.
LEDs — which are about 75% more efficient than old-fashioned bulbs — are available commercially but are expensive and cast a harsh blue light that consumers don't like.
In her most recent paper, published in Advanced Functional Materials, Zhu and colleagues used computational and experimental methods to study the property of semiconductors to improve LED performance. They found that a compound known as perovskite nanostructures can be used to enhance the color quality, shifting the blue toward green hues, and to improve the stability of emissions.
"The material showed high luminescence stability with excellent color quality and a desired color temperature," she said. "Ultimately, we hope this will lead to lighting that is very efficient and environmentally friendly. Commercialization is still cost-prohibitive, so we will also continue to explore ways to make new lighting technologies affordable to manufacture, as well."
While Zhu is in the Department of Electrical Engineering and Computer Science, the work spans disciplines, including electrical engineering, physics, materials science, chemistry, chemical engineering, industrial engineering and mechanical engineering. Students who are interested in materials science or who want to apply physics or chemistry might also be good candidates for the research.
"Lightbulbs are used in everyday life, so this research really touches on a lot of different subject areas," Zhu said. "It's a great opportunity for students to have a significant impact on the reduction of energy consumption. And it's a rapidly evolving field with a lot of opportunities for innovation, creativity and experimentation."
Want to be part of research that impacts daily life? Contact Zhu to learn more about joining her research group.