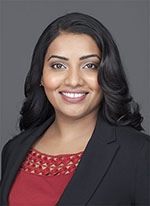 Kiruba Krishnaswamy
Assistant Professor, Biological Engineering
244 Agricultural Engineering Building
Phone: 573-882-1114
Email: krishnaswamyk@missouri.edu
Biomedical, Biological and Chemical Engineering
Biography
Krishnaswamy's primary interest is to address global challenges of food and nutrition security through sustainable food process engineering. She is an assistant professor in the Department of Biomedical, Biological and Chemical Engineering with a joint appointment in Food Science (CAFNR).
She was involved in the "Consolidation of Food Security in South India" project in collaboration with McGill University, Tamil Nadu Agricultural University and Canadian International Development Agency (CIDA) during her undergraduate studies. Through this international collaborative project, she experienced the impact of food processing technologies to improve the livelihood of rural communities. Krishnaswamy received the Canadian Commonwealth Scholarship to conduct her Master's research at McGill University and continued her PhD in bioresource engineering. She is a recipient of various awards including the Best PhD Thesis Award from the Canadian Society for Bioengineers (CSBE).
Krishnaswamy managed three salt fortification projects (funded by International Development Research Centre (IDRC), SL@B, Grand Challenges Canada, Bill & Melinda Gates Foundation) during postdoctoral research at University of Toronto. She was instrumental in developing micronutrient fortified salt technologies which resulted in three pilot scale production reaching 60 million people in India. She has collaborated/ consulted on International projects related to food and nutrition security in US, Canada, India and Africa.
Education
PhD from McGill University
MTech from Tamil Nadu Agricultural University, India & McGill University, Canada
BTech from Tamil Nadu Agricultural University, India
Technical Focus
Sustainable food process engineering
Website