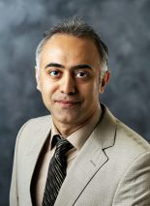 Omid Shahvari
Assistant Teaching Professor
E3437H Lafferre Hall
Phone: 573-882-9563
Email: osxtn@missouri.edu
Industrial and Systems Engineering
Biography
Dr. Omid Shahvari joined the faculty of the Industrial and Systems Engineering at the University of Missouri in June 2020. Prior to joining the MU, he was a Visiting Assistant Professor in the Foisie Business School at Worcester Polytechnic Institute and the Department of Industrial and Systems Engineering (ISE) at Mississippi State University. He previously was a Postdoctoral Associate in the ISE department at Mississippi State.
His research is primarily focused on operations research, with core interests in optimization problems such as scheduling, logistics, transportation, supply chain, and operation management. His publications have appeared in journals such as IISE Transactions, International Journal of Production Economics, and Computers & Operations Research.
Before his academic career, Dr. Shahvari spent several years working in several manufacturing and service companies in the Middle East. He has over eight years of industrial manufacturing experience in the areas of optimization processes, production planning and control, and decision analysis. His most professional position was that of an Operations Research Scientist, where he improved production processes on production lines.
Education
PhD – Oregon State University
Technical Focus