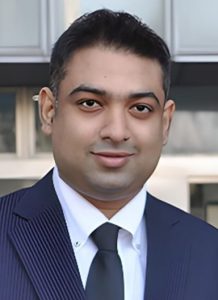 Tahmid Hasan Rupam
Postdoctoral Fellow
E2416 Lafferre Hall
Phone: 573.884.8918
Email: tahmidrupam@missouri.edu
Biography
Tahmid Hasan Rupam is a highly accomplished researcher with a distinguished academic and professional background in the field of engineering. He obtained his PhD from Kyushu University, Japan in March 2022 and went on to work as a JSPS postdoctoral research fellow at the International Institute for Carbon Neutral Energy Research. Currently, Rupam is working as a postdoctoral fellow at the Department of Mechanical and Aerospace Engineering at the University of Missouri.
Rupam holds a Master of Engineering degree in Energy and Environmental Engineering from Kyushu University and a bachelor's degree in Electrical and Electronic Engineering from the University of Dhaka, Bangladesh. He is known for producing excellent results, as demonstrated by Kyushu University President's award for Challenge and Creation Project 2018. Rupam also received the DEANS' AWARD-2015 for his academic excellence from the Faculty of Engineering and Technology at the University of Dhaka, Bangladesh.
His research interests encompass the development of innovative solutions for the conversion and utilization of carbon neutral energy. He focuses on the characterization and synthesis of functional adsorbent materials with a view towards thermal energy-driven adsorption cooling and refrigeration systems, energy storage applications, CO2 capture, and storage processes and electrochemical energy storage and conversion. Additionally, he investigates the thermodynamic and kinetic behavior of adsorbed phases to provide a deeper understanding of these processes. In recognition of his achievements, to this date Rupam has contributed to 19 peer-reviewed scientific journal articles and 14 conference articles. This is a testament to his unwavering commitment to advancing the field of engineering and delivering results that make a difference.
Education
PhD from Kyushu University, Japan
M.Eng. in Energy and Environmental Engineering from Kyushu University, Japan
B.Sc. in Electrical and Electronic Engineering from University of Dhaka, Bangladesh
Technical Focus
Adsorption heat pumps/chillers
Carbon neutral energy conversion or utilization systems
CO2 capture and storage applications
Thermal management of microelectronics using oscillating heat pipes