July 12, 2022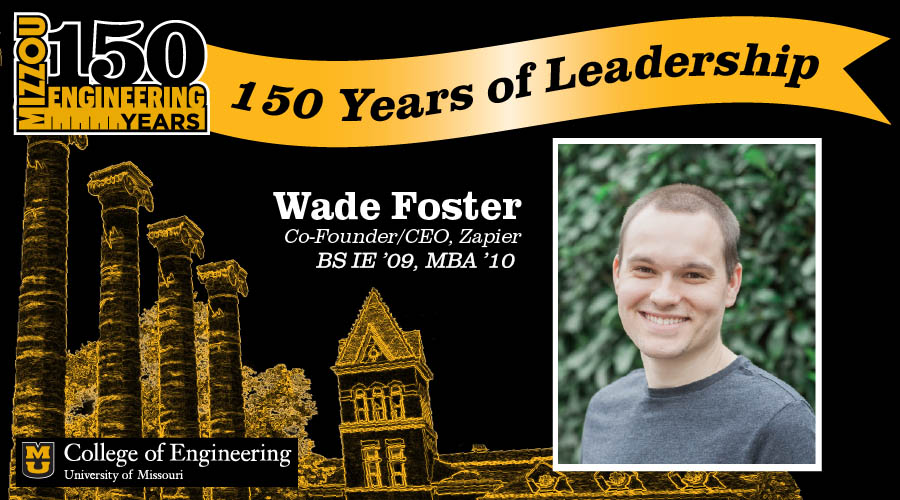 Just start. It sounds like simple advice, but it's one of the hardest steps to becoming a self-made leader, Wade Foster says.
And he should know. In 2011, at the age of 24, Foster and Bryan Helming (BS Finance '11) began working on an idea that's since become Zapier, an automation system connecting thousands of applications such as Google Apps and Microsoft 365.
"When I first started Zapier, it was a part-time project," Foster said. "So many people delay trying something because they don't think they are good enough yet. The path to getting good at something starts with being bad at something."
Today, Zapier (pronounced like "happier") employs more than 600 people across the globe and has a $5 billion valuation. The company has been on Forbes Cloud 100 — the list of the top 100 private cloud companies in the world — for five years running, ranking at No. 13 in 2021. For his success, Foster was named to the Forbes 30 Under 30 list in 2017 and this year was recognized as a 2022 EY Entrepreneur of the Year in the Bay Area.
While Foster carved out his success through initiative and hard work, Mizzou Engineering plays a role in his story, too. He earned a bachelor's in industrial engineering in 2009 and an MBA the following year through a dual industrial engineering and business program.
"The engineering curriculum at Mizzou is tough," Foster said. "I truly learned what it meant to build expertise in a topic. I spent countless nights in the library trying to understand these topics."
Specifically, he says a course in financial engineering helped him by providing the backbone of running a business. And he gained real-world experience as a student engineer in the Missouri Industrial Assessment Center, a Mizzou Engineering center that provides free energy assessments to manufacturing companies.
Outside of engineering at Mizzou, Foster was involved in music as part of a jazz band, which he considers his first foray into entrepreneurship.
"Jazz music wasn't necessarily in high demand," he said. "So, we had to find our audience and figure out who likes jazz, how to get bookings and how to get paid for our performances — all things that entrepreneurs inevitably do."
From Intern to Innovator
Foster credits a marketing internship at a software company in Columbia for exposing him to opportunities within the field.
"I was intrigued by the position because it was at the intersection of psychology and math," he said. "The company took a chance on me, and it opened my eyes. I got a ton of exposure to multiple departments at the company and, as a result, fell in love with building software."
In his spare time, Foster worked on freelance projects such as building websites, creating email marketing templates and developing a web app.
He then took a job with Veterans' United where he met Helming and began discussing the idea of creating a business around automation. In October of 2011, the two teamed up with a local developer, Mike Knopp, to build the initial prototype of Zapier, which won the first Startup Weekend held in Columbia.
Over the next several months, the team worked nights and weekends to build the beta product and by January of the following year, the company was born. In 2012, Foster relocated to California.
Asked what keeps him motivated every day, Foster said hearing stories about the impact Zapier has on customers' lives. He shared several examples of how businesses and non-profit organizations have benefited from the automation services.
Even though serving as CEO of Zapier keeps him busy, Foster continues to give back to Columbia and the Mizzou community. He has attended Startup Weekend several times and last year spoke at the opening of the Griggs Innovators Nexus/Entrepreneurship Quest kickoff on campus.
"The community in Columbia gave a lot to me, and I want to see it grow," he said. "So, where I can help, I like to give back time and expertise that might help the next generation of entrepreneurs in Columbia get their start."