December 12, 2022
Our celebration of the 150th anniversary of Mizzou Engineering's incorporation wraps up this month with a recap of recent years and a sneak peek of what's ahead.
Our series left off in 2020, the year the world changed as the COVID-19 pandemic swept across the globe, closing businesses and campuses and shuttering life as we knew it.
Mizzou Engineering students, like students everywhere, transitioned to remote learning. While faculty and staff also worked safely from a distance, Mizzou Engineers quickly acted, using their specialized equipment, labs and expertise to develop sanitizers, personal protective equipment and other supplies for hospitals and facilities in the community.
Shortly after the pandemic began, Noah Manring — a longtime faculty member and former chair of two departments — took the helm as interim dean, guiding the College through the unprecedented challenges. Under his steadfast leadership, students were able to continue to receive a high-quality education, and faculty continued high-impact research, including new research awards designed to combat COVID.
Manring was named permanent dean within a year.
On Dean Manring's watch, Mizzou Engineering has enjoyed growth and achievement in several areas. Research activity has risen to more than $30 million in expenditures. Several new campus initiatives were launched, including the opening of the Missouri Water Center with the College of Agriculture, Food & Natural Resources and the MU Materials Science and Engineering Institute in collaboration with the College of Arts & Science.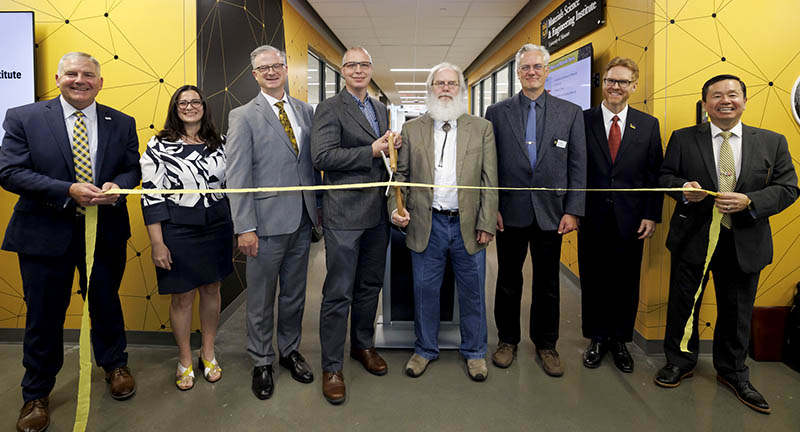 The number of Engineering faculty designated Curators' Distinguished Professors increased from one to five faculty members in just two years. And the College's external ranking also increased.
In 2021, Dean Manring created a faculty fellowship program for Inclusion, Diversity and Equity, naming four IDE Faculty Fellows who meet regularly with students from groups historically underrepresented in engineering. He also established an IDE Alumni Advisory Council to provide industry guidance as the College increases efforts to diversify the engineering profession.
This past year, Dean Manring spearheaded efforts to celebrate the College's 150th anniversary of incorporation, which culminated in the release of a comprehensive history of Mizzou Engineering. The book, "The History of Mizzou Engineering: A Proud Tradition, Engineering the Future!" is currently on sale at The Mizzou Store.
This fall, Dean Manring led the creation of a new engineering department to expand programming around emerging technologies. The Department of Engineering and Information Technology currently offers a bachelor's degree in information technology and several certificate programs with plans to add programs in the coming years.
In January, Professor Roseanna N. Zia will join Mizzou Engineering as Associate Dean for Research and Dave Wollersheim Professor of Mechanical and Aerospace Engineering. Dr. Zia has served on faculty at both Stanford University and Cornell University and has a PhD from California Institute of Technology.
There are more significant changes on the horizon, as Mizzou Engineering works with campus on MizzouForward, a university investment to support strategic initiatives. Specifically, the College of Engineering plans to increase enrollment by 1,500 students in the next five years, add 50 new faculty members and add 25 staff positions. Plans to expand Engineering's physical footprint on campus are also underway.
From offering the first engineering course west of the Mississippi more than 150 years ago to implementing significant changes and improvements today, Mizzou Engineering is poised to create a better world, through engineering.
Thank you for being a part of our 150th anniversary celebration. We look forward to the next chapter.