October 12, 2022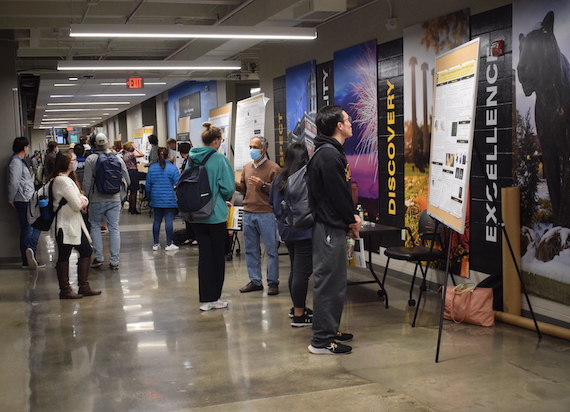 Did you know earning a master's degree significantly boosts your earning potential? Or, if you're interested in pursuing a career in research, whether in a lab or academic setting, a PhD is a must. Don't worry; Mizzou Engineering can help cover the cost of graduate school for qualified students.
Learn more about graduate school options — including accelerated one-year master's programs and scholarships — at Mizzou Engineering's Research Open House from 5 to 7 p.m. on Tuesday, Oct. 25.
"Even if you're unsure about graduate school, this event will give you a better understanding of what you will learn and the types of research projects you could join," said Roger Fales, associate dean of student services and academic affairs. "We have information about paying for a graduate education, as well, such as assistantships and our PhD fellowship."
The event will begin in Ketcham Auditorium. Grab a slice of pizza and hear about graduate programs and funding options, including graduate research assistantships, graduate teaching assistantships and departmental fellowships and scholarships.
Mizzou Engineering also offers a doctoral fellowship for students interested in pursuing their PhD. For each year in the doctoral program, this fellowship covers tuition and course fees and provides a stipend of $30,000 and nearly $3,000 worth of benefits, such as health insurance, to qualified students.
Following the welcome presentation, a Poster Session will begin at 5:20 p.m. in the. Main Lafferre hallway. There, you can learn more about specific research projects, talk to current graduate students about their experiences and ask questions of the directors of undergraduate studies.
Mizzou Engineering offers nine master's degree programs and seven doctoral degree programs, as well as six accelerated master's degree programs in biological engineering, civil engineering, computer science, computer engineering, electrical engineering and industrial engineering.
"There are a lot of opportunities for both PhD and master's degrees," Fales said. "And the funding and stipends available make the transition to a graduate program easier."
Ready to get started? RSVP here.