September 19, 2022
The Civil Engineering Academy of Distinguished Alumni (CEADA) inducted four new members on Sept. 16 at a ceremony honoring their outstanding contributions to the field.
Established in 1998, CEADA honors extraordinary graduates and distinguished friends of the Department of Civil and Environmental Engineering. Election to the Academy recognizes outstanding achievement, excellence and leadership in engineering and civic affairs.
Inductees represent the best in civil engineering while remaining committed to the academic success of Mizzou Engineering students, Department Chair Praveen Edara said.
"You're joining an incredible group of women and men who have continued to build upon a foundation of excellence in civil engineering at Mizzou," Edara told honorees. "CEADA members invest in scholarships that ensure our students can get the education they need to be successful. CEADA members provide important industry guidance in our academic programs and accreditation reviews. Most importantly, you inspire our students. You show them that with hard work, they, too, can be successful and make a difference."
The 2022 inductees are
Patrick Earney BS Ed '97 BS CiE '98, MS CiE '00
Stephen Kellerman BS CiE '01
John P. Miller BS CiE '94
Derek Vap BS CiE '06, MS CiE '07
About the Inductees
Patrick Earney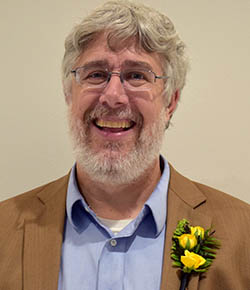 Patrick Earney, P.E., is the structural technical director for McClure Engineering Company in Columbia, Missouri.  He has been a structural engineer with McClure since 2007.
Earney, a registered professional engineer in 14 states and a registered structural engineer in 10 states, provides technical guidance to the structural team while managing unique projects primarily for cladding, industrial retrofits and historic restorations. Earney also provides expert services for legal cases involving structural failures.
Earney is active with the local ACI chapter and local historic preservation boards and teaches as adjunct faculty for Mizzou Civil Engineering courses including Structural Analysis and Reinforced Concrete Design.
Stephen Kellerman
Stephen Kellerman, P.E., is the construction director for transportation at Burns & McDonnell, an international architecture, engineering and construction company based in Kansas City, Missouri.
Kellerman began his career with Clarkson Construction, where he most recently served as chief engineer. He has more than 20 years of experience in bidding, partnering and constructing some of the Midwest's largest private and public infrastructure projects.
Kellerman is an active participant in the Heavy Constructors Association of Kansas City (KC), The Builders' Association of Kansas City, and ACEC of Missouri. He previously served as grading director, treasurer and vice president on the HCA board of directors and currently serves on the transportation committee for ACEC of Missouri.
John P. Miller
John P. Miller, P.E., RSP, is Safety & Operations Engineer at FHWA Missouri Division.
Prior to joining FHWA in February of 2018 as a mid-career hire, Miller served as a traffic and safety engineer for the Missouri Department of Transportation (MoDOT). In that capacity, he was responsible for managing the traffic engineering section responsible for safety, access, signing, delineation, and pavement markings. He was heavily involved with the implementation of median guard cable, rumble strips, and other systemic safety initiatives across the state. He is a safety leader serving both the state and national level.
Miller is involved with various safety partners such as law enforcement, planners, and transportation engineers.  He has provided various training opportunities, given professional advice, and initiated numerous systemic-safety initiatives across the state.
Miller began his civil engineering professional career with MoDOT in 1994 and is currently the safety and operations engineer in the Missouri Division.
Derek Vap, P.E.
Derek Vap is the Highway Section Manager at HNTB Corporation in Kansas City, Missouri. Currently supervising 13 designers and project managers, he is responsible for their career development and mentorship; the recruitment, hiring and promotion of staff; and ensuring the group's contribution to office earnings, sales, and client delivery.
Vap is a licensed Professional Engineer in Missouri and four additional states. During his professional career, Vap has managed and designed highway projects for DOT and Toll Agency clients across the Midwest. Key projects include MoDOT's US-54 Champ Clark Bridge Design Build and US-24 over Delaware St. in Kansas City, as well as the Kansas Turnpike's Open Road Tolling Conversions. Vap also serves as HNTB's Client Service Leader for the Kansas Turnpike Authority, currently managing the conversion of the 236-mile Turnpike to an all-electronic tolling system as well as a 20-mile 4 to 6 lane expansion of I-70 from Kansas City to Lawrence, Kansas.
Vap has held many local and statewide leadership positions within the Missouri Society of Professional Engineers (MSPE) and is involved with a number of local civic and community groups.
Learn more about CEADA here.