December 09, 2022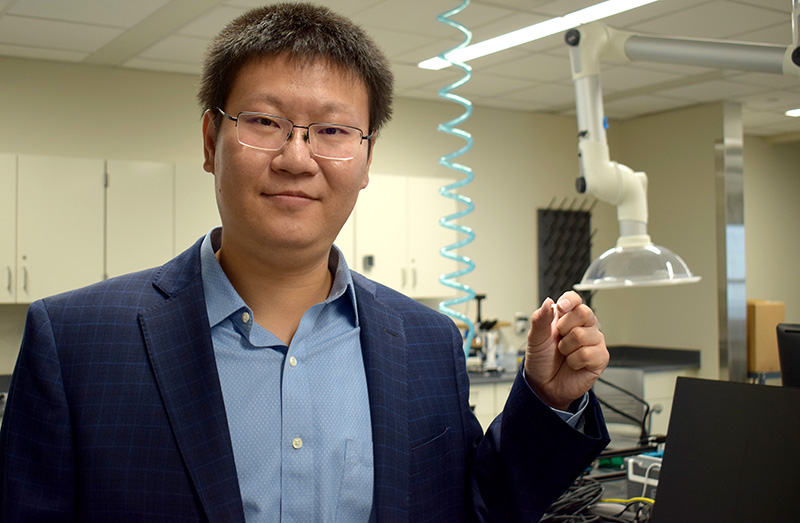 A Mizzou Engineering faculty member is developing new ways to fabricate microprobes and nano electrodes that will help researchers across campus.
Assistant Professor Yi Wang joined the Department of Industrial and Manufacturing Systems Engineering in March. Already, he is working with collaborators from biomedical engineering, mechanical engineering and the MU School of Medicine to fabricate and provide neuro microelectrodes that can be used to further research around brain activity.
"I'm using hybrid manufacturing way, including 3D printing and MEMS [micro-electro-mechanical systems] technology to fabricate high-resolution neuro microelectrodes," Wang said. "By using 3D printing, we can save time and money, and we can customize electrodes for different neuroscience studies. In the coming years, my research focus will be on fabrication of multifunctional neuro microelectrodes to record neural activities and detect neural chemicals and transmitters."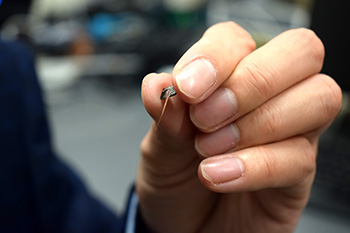 And those findings can lead to improvements in medical treatments, as well as brain-machine interactions.
Wang earned a PhD from North Carolina State University, where he presented a new flexible neural microprobe and implementation strategy using ultrasonic vibration with bio-dissolvable insertion guides. The tool was designed to simultaneously record and stimulate neural activity under MRIs to further explore neurophysiological mechanisms and diagnose brain diseases.
In addition to opportunities for interdisciplinary collaboration, Wang chose to start his academic career at Mizzou because of the engineering resources, equipment and caliber of students.
"I like the environment," he said. "A lot of the students here have a good mathematical and Engineering background, and students in our department also understand machine learning. That helps when it comes to analyzing neural data."
In addition to his research around biomedical applications and devices, Wang studies and teaches manufacturing, including advanced manufacturing and computer-aided design.
Study alongside innovative faculty who are exploring next-generation technologies. Apply to Mizzou Engineering today!