March 24, 2023
Shishi Chen has been named among the top early-career engineers in the country.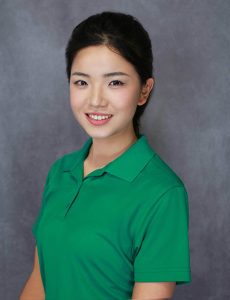 Chen, BS CiE '18, MS CiE '20, was among the 2023 class of American Society of Civil Engineers (ASCE) New Faces of Civil Engineering Professionals. Honorees represent inspiring young engineers already making a difference, according to ASCE.
"Impossible means I'm possible," Chen said. "When I first came to Mizzou, I didn't speak English well, not to mention how difficult it is to study engineering courses in my second language. However, Mizzou's values of Respect, Responsibility, Discovery and Excellence inspired me. Mizzou taught me to face challenges and embrace learning in all forms. It helped me recognize and accept the sacrifices, risks and responsibilities of pursuing excellence."
Chen is a civil engineer at HVJ Associates and works on state highways, city streets and airports projects in Austin, Texas. The best part of the job is reviewing quality design and construction plans to ensure safety, she said.
Keeping others safe has been a goal for Chen since she was in sixth grade. While not impacted directly by the Sichuan earthquake in 2008, she learned about the devastation it caused and immediately wanted to help. Chen donated clothes and even her allowance and decided then to become a civil engineer.
"My parents told me that as a civil engineer, I could make more durable schools and buildings to help people when an earthquake happens," she said. "That's how growing up, I was inspired."
She found Mizzou through a scholarship opportunity and chose to come here after learning more about the civil engineering program.
"I was impressed by Mizzou's world-class faculty and research success," she said. "So I decided to come to Mizzou to study, which turned out to be the best choice I made!"
At Mizzou Engineering, Chen was a member of Chi Epsilon honor society and was an Engineering Ambassador. As a graduate student, she worked with Bill Buttlar, Chair in Flexible Pavement Technology, and James Meister, research engineer, to devise a way to use waste plastics as an additive in asphalt.
"The time I was at Mizzou Asphalt Pavement and Innovation Laboratory (MAPIL) is such a precious memory for me," she said. "Every time I look back on the time I had at Mizzou, I feel strong and proud as a Tiger. All of these continue to inspire me to pass Mizzou's values and mission forward."
Become a Mizzou Made Engineer. Apply today!