May 04, 2023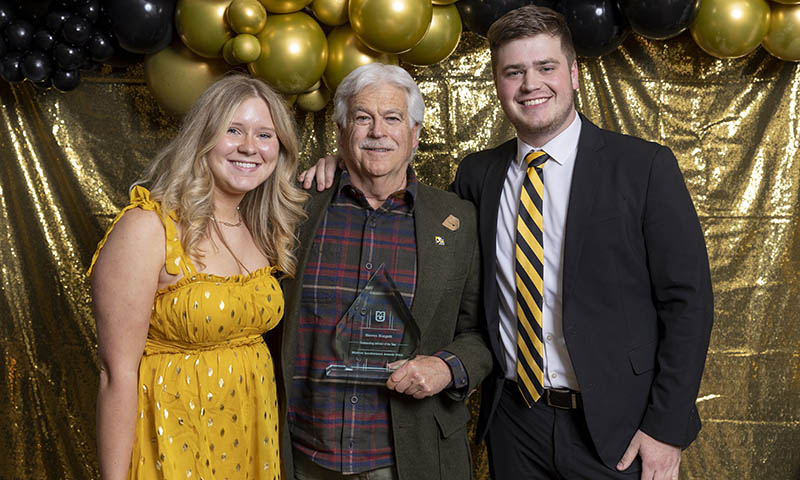 Steve Borgelt was honored this week with the University of Missouri's Advisor of the Year Award for his more than decade of service as advisor of the Engineers' Club and St. Patrick's Board at Mizzou Engineering.
"I was surprised," he said. "I didn't even know I'd been nominated until I was notified that I was a finalist. It means a lot. It's hard to explain how much it means."
Borgelt, an associate professor emeritus in the Department of Chemical and Biomedical Engineering, might have been surprised, but students who nominated him weren't.
"Dr. Borgelt is the glue that holds our club together and keeps the oldest tradition at Mizzou alive," Jordan Hayes, a member of engineers' club and also president of MU Engineering Student Council, said in Borgelt's nomination packet. "He is consistently at all of our meetings and notices when members of our club are gone. He truly is something special, and I can't imagine anyone more deserving of this award."
Borgelt also ensures the organization is a welcoming community to all, and cares about the success of individual members, said Kate Sherard, co-president of the club.
"Without the effort he has put into the St. Pat's Board, I would not be the person I am today," she said.
Borgelt's nomination included similar testimonies from other members who praised his commitment to students, mentorship and passion for Mizzou Engineering.
And over the past 14 years, he's been the cornerstone of Engineers' Week, said Lane Atchison, co-president of St. Pat's Board.
"Without his guidance and experience, St. Pat's Board wouldn't be complete," Atchison said. "He's the expert on how to throw the College of Engineering's biggest party."
E-Week began at Mizzou in 1903 when engineering students "discovered" St. Patrick was an engineer and used it as an excuse to cut class in the middle of a long semester.
And it's still focused on giving students opportunities to take a break from rigorous studies and have fun. But it's so much more than that, Borgelt said.
"It's about tradition," he said. "The Knighting Ceremony dates back to 1906 and is the longest running tradition. Lighting the Jesse Hall Dome green started as a student stunt but today is recognized across campus and the community and brings a lot of awareness to the College. And there's a philanthropy component, as we've held a 5K/10K Run/Walk/Roll to raise money for charity for years."
One of his favorite E-Week activities is Lab Exhibits, which allows outside groups to take a peek inside engineering research labs. Over the years, Lab Exhibits have brought in community and civic groups, and in recent years, students from area elementary, middle and high school students come to see the work happening at Mizzou Engineering.
Another personal favorite? The E-Week buttons students make every year to promote the festivities. Borgelt collects the buttons — he has one from every year dating back to 1926 with the goal of reaching 100 in a few years.
Mostly though, Borgelt likes to see the journey students make when they first get involved in E-Week to when they become leaders within the organization. Students are charged with all aspects of planning, from raising funds and developing a budget for expenses to facilitating spaces on campus to marketing and promoting their activities.
"It teaches them life skills and helps them become better professionals," Borgelt said. "When I think about students like Jordan and Lane and Kate—being around students like that gives me hope that our future is in good hands."
Borgelt earned his bachelor's and master's at Mizzou before earning his PhD from Texas A&M. As an undergraduate, he was president of the Engineering Student Council and participated in E-Week. He joined the faculty in what was then agricultural and biological engineering in 1989, serving as director of undergraduate studies from 2001 to 2017.
Borgelt is officially retired but doesn't see hanging up his E-Week role any time soon.
"I'm adamant that some activities continue to be led by students, but I'm happy to stay on as advisor as long as they think I still have something to contribute," he said. "My role is to provide assistance and help them lead."
Learn more about Engineers' Week here.