January 05, 2023
Students graduating with degrees in industrial engineering at Mizzou go on to work in a variety of areas including healthcare, logistics, manufacturing and service. Mizzou industrial engineers can be found in more industry sectors than any other type of engineer – everything from financial firms to hospitals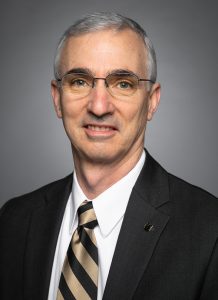 To more accurately reflect those career outcomes and mirror changes in the profession, the department formerly known as industrial and manufacturing systems engineering has been renamed the Department of Industrial and Systems Engineering.
"This change won't impact our degree program or curriculum, but rather is a more accurate way to reflect what our students study," said department Chair Jim Noble. "At one time industrial engineers worked primarily in manufacturing, however that is no longer the case, manufacturing is just one area that you will find industrial engineers. Our alumni work for a wide variety of organizations where they analyze, design and optimize all types of systems using skills such as data analytics, human factors, and operations research."
Industrial engineering alumni work for and become leaders at companies such as Amazon, Ameren, BJC Healthcare, Boeing, Hallmark, John Deere, IBM, Oracle, Scholastic and UPS. Many Mizzou IE alumni go on to start their own companies.
The name change is also more reflective of faculty research happening in the department. That includes Assistant Professor Sharan Srinivas's work around last-mile delivery systems and robot-human interactions. Associate Professor Jung Hyup Kim is researching the use of augmented reality in the classroom. Assistant Professor Kangwon Seo is devising a way to determine the lifespan of lithium-ion batteries. However, the name still encompasses the advanced manufacturing research of Assistant Professor Yi Wang.
And this past semester, seniors completed capstone projects for companies including DANA, Environmental Dynamics International and the VA Hospital.
"Industrial and systems engineering has really evolved with the needs of society," Noble said. "Industrial and systems engineers are in the business of making organizations more efficient and successful, and that's what we teach our students to do."
Become an engineering leader. Apply to the University of Missouri College of Engineering today!