November 30, 2022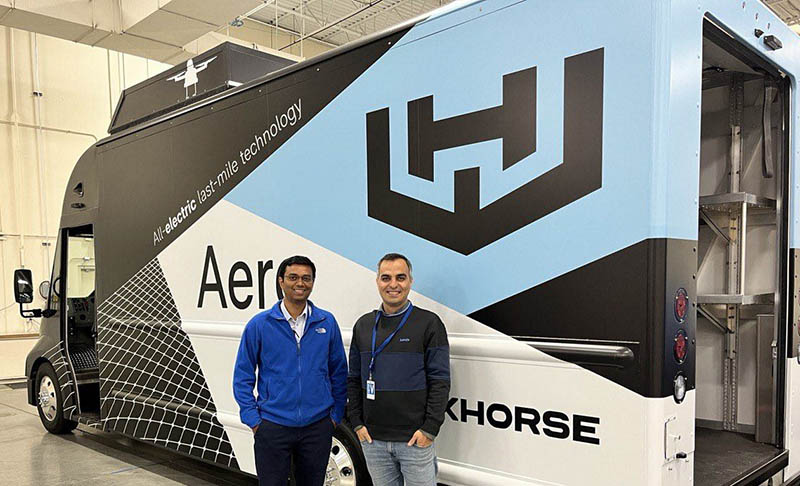 When you order something online, shipping fees can be hefty as companies try to recoup the cost of delivering the product to your doorstep. To help offset some of those so-called "last-mile" expenses, a Mizzou Engineering team is developing a tool that will allow delivery companies to best optimize routes using electric vehicles and drones.
"Getting a package from a depot to customers is the most expensive, time-consuming and polluting segment of the delivery process," said Sharan Srinivas, assistant professor of industrial and manufacturing systems engineering. "And the demand for last-mile delivery is expected to grow over 75% by 2030, and is mostly driven by e-commerce growth. Without intervention, such growth is expected to increase traffic congestion and greenhouse gas emissions by 30%."
Srinivas and Arash Alizadeh, a PhD student, are moving forward with plans to commercialize their system with help from the National Science Foundation's I-Corps, an immersive entrepreneurial program designed to help move research to the market.
"Completing the National ICorps program shows a strong commitment translating his research into something that can directly impact society," said Lisa Lorenzen, Assistant Vice Chancellor of Technology Advancement in the Division of Research, Innovation & Impact Office.
As part of I-Corps, Srinivas and Alizadeh — along with Brett Maland from MU Technology Advancement — interviewed more than 100 truck drivers, logistic managers, drone operators and executives from companies such as Amazon, Workhorse, FedEx and UPS to ensure their proposed technology will meet industry needs.
"One of the important things I learned was that there's a difference between theory and practice," Alizadeh said. "In theory, we sometimes develop models and algorithms by considering certain assumptions of the real-world environment, but there are several practical uncertainties, such as traffic congestion and weather-related disruptions, that impact delivery routes. We can now adjust our platform to best address such concerns."
Srinivas said one of the main questions was to explore the customer pain points with respect to existing route optimization platforms. While current platforms work well for gasoline-powered vehicles, they were not designed to consider factors related to electric vehicles and drones, he said.
"One company, for instance, has procured more than 100,000 electric vehicles for their fleet, and many already have trucks that can deploy drones to deliver small packages," Srinivas said. "Existing route planning tools do not account for factors such as payload and route-dependent battery discharge of electric trucks and are unable to generate optimized as well as reliable routes for hybrid truck/drone delivery."
The new platform, called RoutePEARL, takes into consideration factors unique to emerging delivery fleets while also prioritizing safety. First, the platform considers whether a truck will drop an item off at its destination or if it would be more efficient to assign a drone to make the last-mile stop.
Second, RoutePEARL considers the order in which trucks and drones should make stops. Third, it determines the sequence that drones should be deployed to avoid a potential collision. Finally, because drones must be able to communicate back to drivers, RoutePEARL optimizes routes that ensure network connectivity.
"That was a new finding that came out of the I-Corps program," Srinivias said. "Fleet operators want to maintain reliable network connection with drones to be able to monitor its path and intervene when needed. Therefore, it is important to optimize a route while accounting for network connectivity for drones."
Because that factor was so important to industry leaders, the team is now working with Prasad Calyam, Greg Gilliom Professor of Cyber Security, who has expertise in networks and connectivity. Srinivas and Alizadeh also plan to continue to interview industry leaders as they further develop the system.
"I'm excited that our technology has the potential to transform last-mile logistics through efficient use and integration of these emerging technologies," Alizadeh said. "The cost of last-mile delivery is the main concern in practice, and our platform can empower logistics companies to achieve cost-optimal, safe, sustainable and faster routes for their electric truck and drone fleet."
Be part of an engineering program solving real-world problems! Apply today.