Our Mission
We promote an inclusive environment for all students fostering a learning and working environment where all people are valued for bringing different perspectives that serve to address issues facing our world.
---
IDE Fellows
IDE Faculty Fellows have been appointed to serve as a resource and to support efforts around inclusion, diversity and equity.
---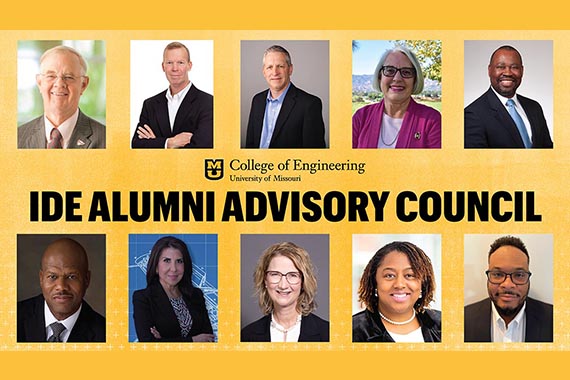 Inclusivity, Diversity and Equity Alumni Advisory Council
Mizzou Engineering has formed a new Inclusion, Diversity and Equity Alumni Advisory Council to advise faculty and staff within the college on programmatic IDE initiatives. The group will serve as a resource for retreats, gatherings and open forums to support IDE initiatives. Council members include:
Dr. Ward Chambers (EE '67)
Kevin Johnson (BS ME '90)
Craig Lalumandier (BS EE, BS CE '89)
Dr. Sharon Langenbeck (BS MAE '74, MS MAE '76, PhD MAE '79)
Andre Logan (BS IE '01)
Michael E. Melton (BS EE '81, JD '84)
Adriana S. Ocampo (BS IE '96)
Dr. Sheri Smithey (PhD AgE '93)
Evelyn Watson (EE '04)
Michael Watson (CS/IT '06)
---
Inclusivity Center
The Inclusivity Center, located in W1026 Lafferre Hall, provides resources and support for students of all backgrounds and educational needs.
The Inclusivity Center is open and staffed five days a week.
---
Student Chapters & Organization Partnerships
The College of Engineering has more than 50 student organizations. Mizzou's Office of Diversity and Outreach Initiatives actively supports and helps these organizations succeed. A few examples include:
National Society of Black Engineers
Society of Hispanic Professional Engineers
Society of Women Engineers
Out in Science, Technology, Engineering and Mathematics
Alpha Omega Epsilon
All Engineering Student Teams and Organizations
Our office is advised by the Student Advisory Council and the Graduate Student Advisory Council.
---
MU Wellness Resources