Our Mission
We promote an inclusive environment for all students fostering a learning and working environment where all people are valued for bringing different perspectives that serve to address issues facing our world.
---
IDE Fellows
IDE Faculty Fellows have been appointed to serve as a resource and to support efforts around inclusion, diversity and equity.
---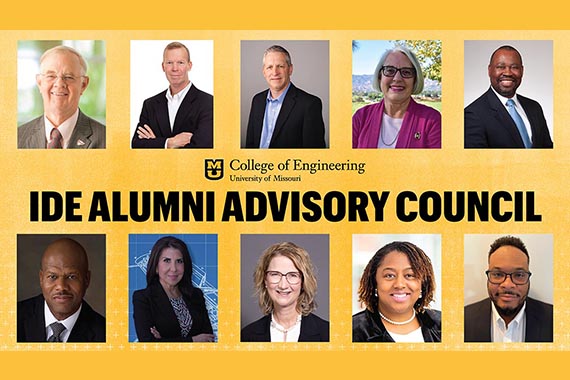 Inclusivity, Diversity and Equity Alumni Advisory Council
Mizzou Engineering has formed a new Inclusion, Diversity and Equity Alumni Advisory Council to advise faculty and staff within the college on programmatic IDE initiatives. The group will serve as a resource for retreats, gatherings and open forums while also helping raise funds to support IDE initiatives. Council members include:
Dr. Ward Chambers (EE '67)
Kevin Johnson (BS ME '90)
Craig Lalumandier (BS EE, BS CE '89)
Dr. Sharon Langenbeck (BS MAE '74, MS MAE '76, PhD MAE '79)
Andre Logan (BS IE '01)
Michael E. Melton (BS EE '81, JD '84)
Adriana S. Ocampo (BS IE '96)
Dr. Sheri Smithey (PhD AgE '93)
Evelyn Watson (EE '04)
Michael Watson (CS/IT '06)
---
Inclusivity Center
The Inclusivity Center, located in W1026 Lafferre Hall, provides resources and support for students of all backgrounds and educational needs.
The Inclusivity Center is open and staffed five days a week.
---
MEP Scholars
The Multicultural Engineering program is aimed towards the recruitment and support of engineering students who come from diverse backgrounds with the purpose of fostering an inclusive environment and community in the College of Engineering. This program helps students to succeed throughout their college careers by fostering a holistic support network between students, faculty and staff. Scholarships of $1000 to $5,000 are awarded to new students in engineering each year with funds from generous companies, alumni and friends of the college.
The MEP Scholarships are awarded based on academic merit (GPA and ACT/SAT score) and financial need. They are renewable for three years based on MU academic performance
To qualify for scholarships, incoming freshmen must:
Be enrolled as a full-time Mizzou engineering student starting the fall semester after high school graduation
Be a U.S. citizen or permanent resident
Complete the MU Financial Aid General Scholarship Application through ScholarshipUniverse each year by the January deadline
MEP Scholarship recipients are required to:
Join an engineering student organization within the first year at Mizzou and remain in an organization until graduation with the end goal of holding a leadership position
Must be enrolled in the College of Engineering, be in good standing, and must follow a College of Engineering program during each semester in which you receive a scholarship payment

A College of Engineering course load is defined as the following:

Full-time enrollment
At least one required math or statistics course in your program of study
At least three credit hours in science or engineering courses, which must count toward your degree program
Students who have completed the math requirements for their degree must take two or more science or engineering courses per semester totaling a minimum of six hours

Attend no fewer than three MEP workshops/seminars each semester
Write a thank-you letter and submit a student profile for your scholarship donor. Attend the fall Scholarship Dinner if your donor attends.
---
Student Chapters & Organization Partnerships
The College of Engineering has more than 50 student organizations. Mizzou's Office of Diversity and Outreach Initiatives actively supports and helps these organizations succeed. A few examples include:
National Society of Black Engineers
Society of Hispanic Professional Engineers
Society of Women Engineers
Out in Science, Technology, Engineering and Mathematics
Alpha Omega Epsilon
All Engineering Student Teams and Organizations
Our office is advised by the Student Advisory Council and the Graduate Student Advisory Council.
---
MU Wellness Resources