March 20, 2023
The College of Engineering on Friday recognized faculty, staff and students for outstanding performance and dedication during an Awards Banquet alongside distinguished alumni.
"This annual awards banquet demonstrates how every member of our engineering community plays a vital role in our mission," said Noah Manring, Dean and Ketcham Professor. "Our students are the heart of everything we do as we strive to create a better tomorrow. Our faculty are committed to excellence in scholarship and research. Our staff keep our operations running smoothly. And our alumni are engineering leaders in industry and in terms of supporting the next generation."
Faculty & Staff Awards
The following faculty members received 2023 awards for accomplishments in research and teaching:
The following staff members received an Outstanding Staff Award
Ghassan Al Bahhash, research engineering technician
Nancy Baker, grants and contracts administrator
Emily Bozich, assistant director of career services
Danene Brooks, director of marketing and communications
Outstanding Faculty Awards
Prasad Calyam
Calyam is Greg L. Gilliom Professor of Cyber Security in the Department of Electrical Engineering and Computer Science and director of the Mizzou Cyber Education, Research and Infrastructure (CERI) Center. He received the James C. Owens Excellence for Research Collaboration Award in recognition of his extraordinary record of interdisciplinary research. Over the past three years, he has collaborated with nearly 40 faculty members outside of engineering to apply advanced computing, cybersecurity, automation and networking to fields such as education, journalism and architectural studies.
Derek Anderson
Anderson is an associate professor of electrical engineering and computer science. He is also director of the Mizzou Information and Data Fusion Laboratory, where his research focuses on data information fusion in machine learning and pattern recognition and automated decision making. Anderson received the Outstanding Senior Faculty Research Award in recognition of his research activities. He is principal investigator on 10 research grants, has published nearly 190 journal articles and conference papers and is involved in the Institute of Electrical and Electronics Engineering's Computational Intelligence Society.
Zheng Yan
Yan is an assistant professor with joint appointments in chemical and biomedical engineering and mechanical and aerospace engineering. He has published some 80 research articles in high-profile journals including Nature and Advanced Materials. Yan received the Outstanding Junior Faculty Research Award in recognition of his research activities. His work has been supported with the prestigious CAREER Award from the National Science Foundation and a research project grant from the National Institutes of Health. Zheng is becoming a leader in the field of multifunctional porous bioelectronics including wearable health monitors.
Mary Myers
Myers is an associate teaching professor and director of undergraduate studies in the Department of Chemical and Biomedical Engineering. Myers received the Senior Excellence in Teaching Award for her commitment to student success and academics. She has been instrumental in helping the department with ABET accreditation, and students praise her for her teaching style, which many say is tough but fair. Myers teaches thermodynamics and is known for making the complex topic relevant and interesting. She has received the Outstanding Teaching Award from graduating students 15 times.
Sharan Srinivas
Srinivas is an assistant professor of industrial and systems engineering. Srinivas received the Junior Excellence in Teaching Award for his commitment to students and academic achievement. He is known for bringing state-of-the art tools and examples into the classroom, and getting students excited about industrial engineering, especially the use of data analytics to solve real-world problems. Srinivas has developed six courses at Mizzou, three in engineering and three in the College of Business, where he has a joint appointment in the Department of Marketing.
Robert Thomen
Thomen is an assistant professor in the Department of Chemical and Biomedical Engineering with a primary appointment in the Department of Radiology. Thomen received the Junior Excellence in Teaching Award for his commitment to student success and academics. He has developed four new engineering courses over the past four years and played a central role in the development of the new Clinical Engineering certificate. Students describe him as passionate, assessable and truly committed to student success.
Outstanding Staff Awards
Ghassan Al Bahhash
Al Bahhash has been a machinist at Mizzou Engineering since 2010. He received the award for his tireless commitment to helping faculty and students fabricate experimental set-ups, one-off parts, test specimens and any other item needed for research and teaching.
Nancy Baker
Baker is grants and contracts administrator for the College, assisting faculty in preparing and submitting research proposals. She's credited with helping Mizzou Engineering grow research expenditures. She received the award for her positive attitude, professionalism and consistent pursuit of excellence.
Emily Bozich
Bozich is assistant director of career services, helping connect our students with prospective employers. She also provides support for more than 50 engineering student organizations. She received the award for being a considerate, thoughtful team player who truly cares about students.
Danene Brooks
Brooks is director of marketing and communications and plays a role in all aspects of the College's strategic plan. She received the award for her dedication to the Mizzou Engineering, including spearheading the College's 150th anniversary, championing the Mizzou brand and for her leadership and service across campus.
Outstanding Student Awards
Each year, Mizzou Engineering faculty select exceptional undergraduate and graduate students to be recognized for their academic accomplishments. The 2023 Outstanding Student Award recipients are:
Department of Chemical and Biomedical Engineering
Biological Engineering:
Junior: Olivia Owen
Senior: Kate Whitmore
Master's: Mia Ruppel
PhD: Qianwei Li
Biomedical Engineering:
Junior: Mary Todd
Senior: Folaoluwashewa Shofu
Chemical Engineering:
Junior: Rick Schroeder
Senior: Kambrie Brandt
PhD: Ryan Gettler
Department of Civil Engineering
Civil Engineering:
Junior: Paige Reeser
Junior: Michael Mann
Senior: Cece Herwig
PhD: John Earwood
PhD: Abdul Rashid Mussah
Department of Electrical Engineering and Computer Science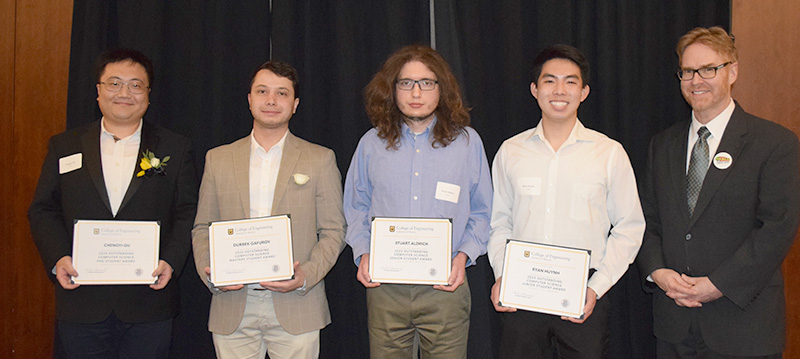 Computer Science:
Junior: Ryan Huynh
Senior: Stuart Aldrich
Master's: Dubek Gafurov
PhD: Chengyi Qu
Computer Engineering:
Electrical and Computer Engineering:
Senior: Anne Watson
PhD: Maruf Shuvo
Electrical Engineering:
Department of Engineering and Information Technology
Information Technology
Junior: Amanuel Hailemariam
Senior: Ty Kalscheur
Senior: Lily Teuscher
Department of Industrial and Systems Engineering
Industrial Engineering
Junior: Jude Dierker
Senior: Natalie Camilleri
Senior: Michael Stroud
Master's: Matt Deay
PhD: Shitao Yu
PhD: Rakhmat Himawan
Department of Mechanical and Aerospace Engineering
Mechanical Engineering
Junior: Graham Bond.
Senior: Joe Jenner
Senior: Samantha Baalmaan
Master's: Keegan Ruckman
PhD: Robin Pham
Four alumni and one strategic partner were also honored at the banquet for their leadership, service and commitment to the College of Engineering.
Receiving the Missouri Honor Award, Mizzou Engineering's highest honor:
Jerry Jost, BS ChE '70, Founder and President of Jost Chemical Company. Read more >
Chih-Hsiang (Thompson) Lin, MS EE '90, PhD EE '93, Founder, President and Chief Executive Officer of Applied Optoelectronics, Inc. (AOI). Read more >
Missouri Innovation Center, which helps researchers commercialize new technologies and products. Read more >
Receiving the James E. "Bud" Moulder Distinguished Alumni Award:
Karen Hamilton, BS IE '87, Executive Partner at TechFides; former Senior Vice President of Supply Chain, Quality and Customer Satisfaction at Schneider Electric. Read more >
Receiving the MU Engineering Alumni Organization's Citation of Merit Award:
Andre Logan, BS IE '01, is the Director of Strategic Initiatives at the University of Missouri-Kansas City. Read more >
Be part of an outstanding engineering community. Apply today!