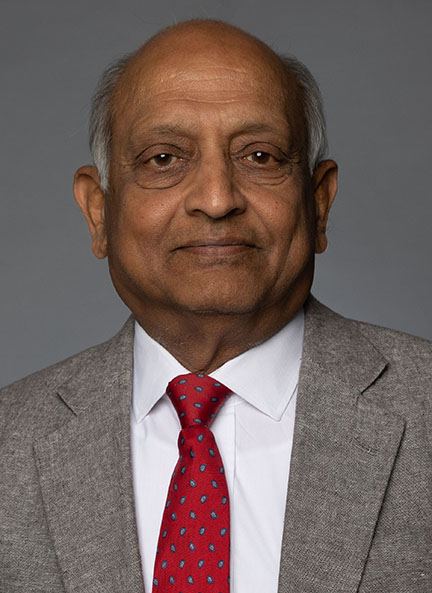 Professor of Civil Engineering
Department of Civil and Environmental Engineering
Principal Investigator
gopalaratnamv@missouri.edu
573.882.2683
Dr. Gopalaratnam, Professor of Civil Engineering at the University of Missouri-Columbia, USA is a Fellow of the American Concrete Institute and the American Society of Civil Engineers, and is a registered Professional Engineer in Missouri. He is passionate about training engineers for the challenges in designing, constructing, and maintaining the next generation of sustainable and resilient infrastructures. As the principal investigator of this NSF S-STEM project, he looks forward to working with his team in educating academically-talented scholars to take on these challenges.
He is active in the American Society of Civil Engineers and the American Concrete Institute. He has extensive teaching and research experience in materials and structural engineering, and his research during the last three-decades has been funded by the National Science Foundation, Federal Highway Administration, US Army Corps. of Engineers, several private industries and the transportation departments of the states of Missouri, New York and California. He has also served as a Visiting Professor at Tohoku University, Sendai, Japan, Universitat Politècnica de Catalunya, Barcelona, Spain, the Indian Institute of Technology-Madras, Chennai, India, and Amrita Vishwa Vidyapeetham, Coimbatore, India. His international collaborations have been supported by the Governments of Japan, Spain and India and by the US Department of State funded Fulbright Specialist and Fulbright US Scholar awards.
Associated Professor of Civil Engineering
Director of Undergraduate Studies
Department of Civil and Environmental Engineering
Co-Principal Investigator
ortons@missouri.edu
573.884.5089
Sarah Orton serves as the Director of Undergraduate Studies for the Civil and Environmental Engineering Department at the University of Missouri.  She is committed to improving undergraduate education through finding ways to motivate students and improve the undergraduate curriculum and experience.   She also serves on the Dean's Council of Teaching Excellence and chairs the college's Committee on Diversity and Inclusion.  She has participated in several programs aimed at improving undergraduate education and is leading an educational research project on examining teaching practices that can improve self-efficacy.
Dr. Orton is an associate professor in Civil Engineering and is an active member of the American Concrete Institute and the American Society of Civil Engineers. Her research projects have involved the use of carbon fiber reinforced polymers to strengthen structures for extreme events (blast, earthquake, collapse), analysis and testing for reinforced concrete frames under disproportionate collapse, seismic response of unreinforced masonry buildings and concrete frames and risk and reliability analysis of bridges and offshore structures. She is a registered professional engineer in Missouri.
Rose M. Marra is a Professor and Director of the School of Information Sciences (SILST) in the College of Education at the University of Missouri. Marra has over twenty years of experience conducting engineering education research. She has focused much of her work on the study of recruitment and retention of women and under-represented minorities in engineering, and has been PI or CO-PI of grants from NSF totaling over $3 million dollars in funding. As Director of Engineering Instructional Services in Penn State's College of Engineering, Dr. Marra worked with individual faculty to implement student-centered instructional activities in the classroom, and developed tools to measure their impact.  This experience, along with her background as an instructional design, will apply directly to her role as CO-PI of NSF S-STEM project to guide the implementation of all student activities as well as collect and analyze formative data throughout the project.

Douglas J. Hacker, PhD
Professor Emeritus
University of Utah Department of Educational Psychology
External Evaluator
doug.hacker@utah.edu
Douglas J. Hacker is Professor Emeritus from the Department of Educational Psychology at the University of Utah and was a member of both the Learning Sciences Program and the Reading and Literacy Program. He serves as the External Evaluator for the current NSF-funded CEE STEM Scholars Project. Prior to receiving his Ph. D. in educational psychology from the University of Washington in 1994, Dr. Hacker worked as a high school science and math teacher and then as a school counselor.  Dr. Hacker continues to work in the areas of writing and reading processes, metacognition, self-regulated learning, and school and program evaluation. At the University of Utah, he served as chair of the Teaching and Learning Department. Since 1994, Dr. Hacker has been either the principal investigator or co-principal investigator on grants totaling $2,600,000. He has served on numerous editorial boards and is a former Associate Editor for the Journal of Educational Psychology.  Dr. Hacker has about 20 years of experience in school and program evaluation and has served as an evaluator on approximately 18 different projects. The projects have ranged from the evaluation of classroom instructional programs, school-wide program implementation, and district-wide restructuring. He also has served as the external evaluator on numerous NSF grants.