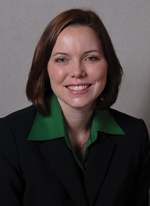 Sarah Orton
Associate Professor, Director of Undergraduate Studies, P.E.
E2503 Lafferre Hall
Phone: 573-884-5089
Email: ortons@missouri.edu
CEE - Director | Civil and Environmental Engineering
Biography
Sarah L. Orton is an associate professor in civil and environmental engineering at the University of Missouri. She is a member of the American Concrete Institute and the American Society of Civil Engineers. She has worked on projects involving use of carbon fiber reinforced polymers to strengthen structures for extreme events (blast, earthquake, collapse), analysis and testing for reinforced concrete frames under disproportionate collapse, seismic response of unreinforced masonry buildings and concrete frames and risk and reliability analysis of bridges and offshore structures. She is a registered professional engineer in Missouri.
Education
PhD from the University of Texas at Austin
MS from the University of Illinois at Urbana-Champaign
BS from the University of Texas at Austin
Technical Focus
Fiber reinforced composite in structural applications
Reinforced concrete structures
Repair retrofit and strengthening of structures for extreme events
Website