September 28, 2023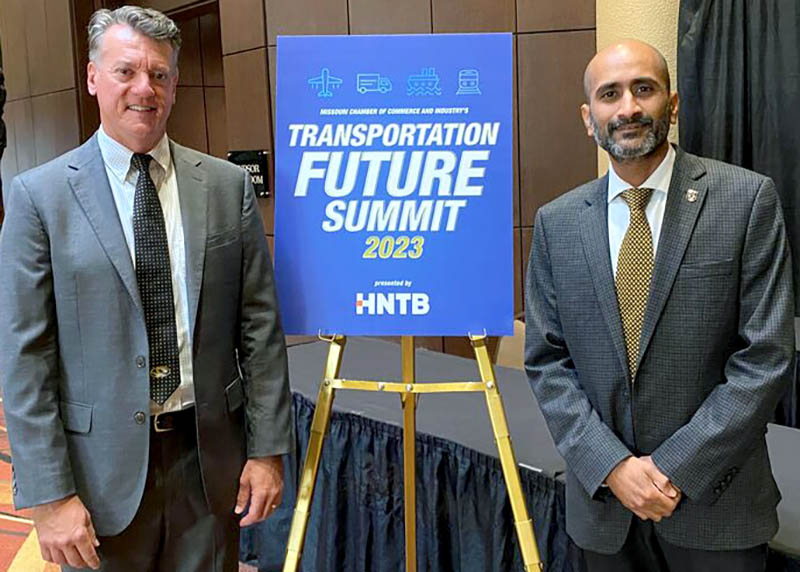 Mizzou Engineers joined state leaders to discuss ongoing transportation projects, infrastructure needs and related research during the Missouri Chamber of Commerce Transportation Future Summit in Columbia last week.
Following opening remarks from Gov. Mike Parson, Praveen Edara, Interim Dean and Chair of Civil and Environmental Engineering, and Bill Buttlar, Glen Barton Chair in Flexible Pavement Technology, presented the work engineering faculty members are doing and how that research impacts the state.
"We have seven faculty members in civil engineering dedicated to improving the efficiency and safety of our transportation infrastructure for motorists, commercial motor vehicle drivers, cyclists and pedestrians," Edara said. "As a land grant university, we take great pride in conducting research that improves the lives of Missourians on a daily basis."
Buttlar is founding director of the Missouri Center for Transportation Innovation (MCTI), a partnership between the University of Missouri System and Missouri Department of Transportation (MoDOT) in cooperation with the Federal Highway Administration and other collaborators. Since opening in late 2019, MCTI has prioritized, coordinated and disseminated transportation research in Missouri and implemented cutting-edge transportation technologies.
Perhaps the most high-profile project has been the development and field evaluation of asphalt mixtures using post-consumer recycled plastic waste. Buttlar has worked with MoDOT to design and build test sections using the plastic-based pavement in Columbia and along Interstate 155 in Missouri's bootheel. In Columbia, the equivalent of 3 million plastic bags were recycled along 4.28 lane miles of plastic-modified road, and more than 900 tires were recycled for over 2 miles of rubber-modified road.
Another MCTI project leverages the power of machine learning to identify pavement cracks. The system, developed by Buttlar and Associate Professor Yaw Adu-Gyamfi, automatically classifies various types of cracks and potholes, allowing local municipalities to prioritize projects based on urgency.
"MCTI was established to position Missouri as a leader in safe, sustainable and resilient transportation," Buttlar said. "These types of projects showcase innovative ways we can develop smart, sustainable solutions to more effectively connect our communities."
During the Summit, Edara highlighted several ongoing collaborations with MoDOT.
For instance, Research Engineer Henry Brown and collaborators evaluated a pilot implementation a self-driving truck to follow a manned vehicle in mobile work zones on highways. The objective of the project was to synthesize DOT practices and identify implementation challenges.
Another project under the leadership of Adu-Gyamfi involves the development of an audible alert system that would autonomously warn motorists who are driving too close to protective vehicles in mobile work zones.
Edara is currently in the middle of a project to identify response plans and evacuation routes in and around St. Louis in the event of an earthquake. The work aims to analyze and develop egress and ingress routes, identify structures prone to failure, develop a traffic simulation model for assessing evacuation routes and create a plan to communicate evacuation directions to residents.
Additionally, Mizzou Engineers are working on various systems to better analyze and share data across agencies.
"These are just a few examples of the important work our faculty members are doing around transportation and safety," Edara said. "We hope summit attendees learned a little more about how we partner with the state and translate academic research into real-world applications."
Learn more about civil and environmental engineering at Mizzou.