May 05, 2023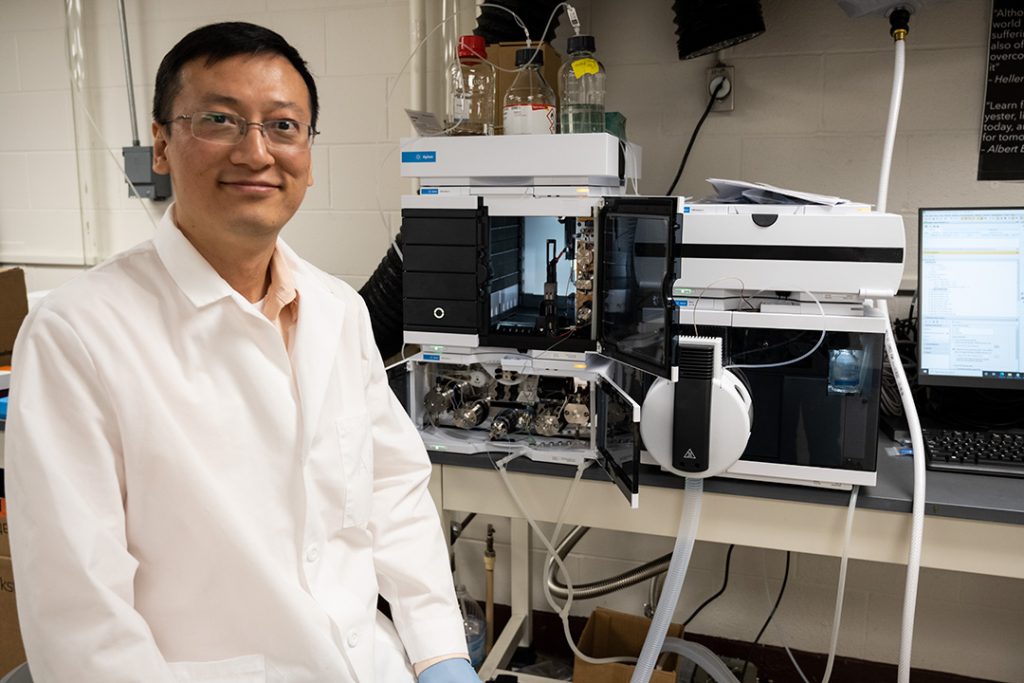 Before most of his peers knew them as "forever chemicals," Feng "Frank" Xiao knew they were a problem.
It was the early 2010s, and he was reviewing Centers for Disease Control data when he noticed a disturbing trend. Pre- and polyfluoroalkyls (PFAS) — compounds mass marketed since the 1940s — were showing up in more than 95% of blood samples, and they appeared to be wreaking havoc on human health.
"These chemicals are useful in products, but they linger in the environment," said Xiao, an associate professor of civil and environmental engineering. "These are toxic chemicals that can cause cancer and other health issues."
Xiao was entering a doctorate program at the time and knew he wanted to find a way to get rid of them. He spent three years studying PFAS for his PhD, publishing 10 peer-reviewed papers, including eight papers in Environmental Science & Technology and Water Research, the two top journals in environmental engineering.
The only problem? Xiao was ahead of his time.
"PFAS have been around nearly 80 years. However, they were not discovered in environmental and biological samples until 2001. Even before 2014, these chemicals were new to the environmental community," he said. "Not many universities wanted to give me a job because they didn't think the research on this new topic (PFAS) could get funded."
So Xiao pivoted and temporarily changed his research focus. Eventually. the science community caught up with him, allowing Xiao to return to the research on PFAS. He received both the Environmental Protection Agency's STAR Early Career Award and the National Science Foundation CAREER Award for pioneering work in this field.
In January, Xiao was recruited to the College of Engineering through MizzouForward, a campus-wide initiative aimed to attract top faculty.
Solutions are heating up
PFAS are used in food and product packaging and have made their way into our environment. Xiao specifically studies how they behave and get transported — and ultimately can be destroyed — in soil and drinking water.
EPA recently laid out plans for more research around PFAS and future restrictions and guidelines for their use.
But the chemicals already in the environment aren't going anywhere without human intervention.
Xiao's research group was the first in the world to demonstrate degradation of forever chemicals at temperatures as low as 150oC in three papers published between 2019 to 2021. Thermal treatment has now become one of the most promising technologies to completed degrade forever chemicals.
In a recent project, he's demonstrated how to break down PFAS in soil by inserting extreme heat. In a paper published last year, Xiao specifically found that heating soil temperatures to 500 degrees for just 30 minutes degraded 99% of all PFAS.
In his most recent paper, Xiao's team demonstrated fast degradation of PFAS in as short as 20 seconds by an innovative heating approach.
"In my opinion, this fast PFAS-degradation method is groundbreaking" Xiao said.
He disclosed this idea to the Mizzou Technology Advancement to commercialize this technology.
Xiao's team is also working on sorptive methods to remove PFAS from drinking-water sources. One method is known as granular activated carbon (GAC), a type of filtering. While effective, the replacement of saturated GAC can be a challenge for small-scale water treatment systems.
In his recent papers, published in Water Research and ACS ES&T Engineering, Xiao outlined an alternative to GAC using biochar — a pyrogenic carbonaceous product of agricultural materials. Xiao and colleagues modified biochar to expand its surface area to trap PFAS in the water. The biochar can then be reused after exposing it to heat. By this approach, rural communities in the world can make their own PFAS adsorbent from locally available biomass materials to safeguard drinking water.
"This is really important research," he said. "We're solving a real, global problem. It's exciting work."
Now, at Mizzou, Xiao is growing his research team, purchasing state-of-the-art equipment for his lab and collaborating with world-class colleagues.
"The civil and environment engineering department has a strong team," he said. "Dr. [Baolin] Deng and Dr. [Zhiqiang] Hu are well-known in my field. The students here are great. And I've had tremendous support from my department chair, the Dean's and Provost's Office, and especially from the MizzouForward program. It is clear to me that Mizzou strives for excellence in all aspects of its mission. The research support from the MizzouForward program is very impressive. I look forward to building a team of talented students and postdocs who have the enthusiasm to tackle the most challenging problems in environmental engineering and science and to make a positive impact on public health. It's the right place for me."
Work with leading researchers to help solve environmental problems. Apply today!