May 14, 2021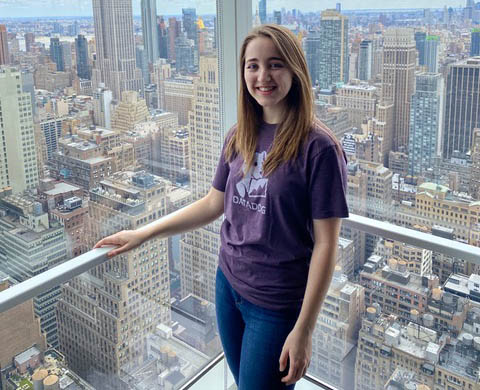 With two internships at Google, research experience and a Mizzou Engineering education behind her, 2021 graduate Samantha Sample is headed to New York City to work as a software engineer.
Sample is receiving a bachelor's in computer science and will be among the 300-plus undergraduate engineers participating in commencement ceremonies Saturday, May 15.
Following graduation, she will start a job as a software engineer at Datadog, a monitoring and security platform company with offices around the globe.
"I'm excited," she said. "I love technology. It's really powerful and can be used as a tool not only to help people but to allow people to help themselves."
Sample first discovered computer science at a summer camp at Purdue prior to her senior year at Lindbergh High School in St. Louis. She'd been interested in engineering but hadn't had much experience with programming until then.
"It was just fun," she said. "To me, it felt like a puzzle, and I've always liked math and solving puzzles. Now, since I've gotten more into it, I like it because computer science is both micro and macro. I can sit down and make a line of code better, but I can also sit down and think of ways to make an entire piece of software work better."
At Mizzou, it didn't take long for her to begin applying classroom lessons to real-world applications. During her sophomore year, she was a Discovery Fellow and worked in the Bioinformatics and Plant Science undergraduate research program under Professor Dong Xu.
"That was a really great experience," she said. "He was a great mentor to me and really helped me learn a lot about computer science, especially in a research context. Dr. Xu helped me figure out what I wanted to do in the future."
That same year, she applied to an internship at Google, thinking it was a long shot. A few months later, she was offered an internship at the company's headquarters in San Francisco. There, she created an automated testing suite for the software product gVisor.
"It was my first professional software engineering experience, and it basically solidified everything I wanted to do with my life," she said. "It was really great."
The company invited her back last summer, and she worked virtually designing and implementing an in-app media browse feature for the Google Maps Android app.
In between her gigs at Google, Sample interned at Datadog, working on a team to secure and support the web platform. She also acted as project lead for an assignment, which gave her the opportunity to coordinate engineers across teams.
A Heart for Helping Others
It was during that experience she discovered a passion for leadership. This summer, she will be volunteering as an instructor for Girls Who Code, which aims to increase the number of women in computer science. She also worked as a mentor for Paper Airplanes, a non-profit that teaches women in conflict-affected nations how to code.
"I've always enjoyed working with people, and some of my favorite memories have been when I've been able to help someone or be a mentor to another person," she said. "In the future, I really want to move into a space between technology and non-profit work. I really enjoy the management side of engineering."
She credits Mizzou Engineering for setting her on the right path.
"There are a lot of resources at Mizzou if you seek them," she said. "The most impactful experiences I've had are opportunities not only in the classroom but through research and connections. Those are definitely the experiences that brought me to where I am today."