June 04, 2021
Industrial engineering education at Mizzou concludes with a two-semester capstone project. These capstone projects give students the chance to put what they've learned so far in their classes to the test through working with an actual company (manufacturing, health care or logistics) on a project they provide.
Students work with classmates in small groups, together with company representatives, to generate and justify engineering solutions, while working within real problem constraints. This experience will prepare students for employment after their graduation.
Students meet and work with their assigned companies to come up with answers to benefit those companies to improve efficiency, quality, cost effectiveness and safety.
Below are the overviews of IMSE capstone class projects from the 2021 academic year (note: company data has been removed, but the general project overview is provided). Take a few moments to learn how industrial engineers develop solutions to real-world engineering problems in health care and manufacturing.
Health Care Capstone Projects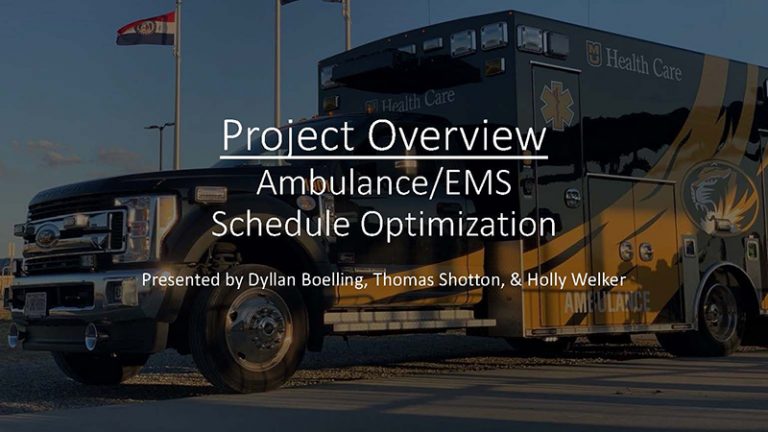 University Hospital
Project: Ambulance/EMS Schedule Optimization (PDF)
Team Members: Dyllan Boelling, Thomas Shotton, Holly Welker
Objectives:
1. Reduce overtime.
2. Redesign schedules in 8-hour blocks.
3. Increase UHU to 0.45-0.6.
4. Minimize the difference between calculated FTE and hired FTE.
---
University Hospital
Project: Physician ER Schedule Optimization (PDF)
Team Members: Mary Catherine Brown, Rachel Dustman, Ben Mitchler
Objective: Decrease the cost of physician staffing by $500,000 per year for UH and WCH.
---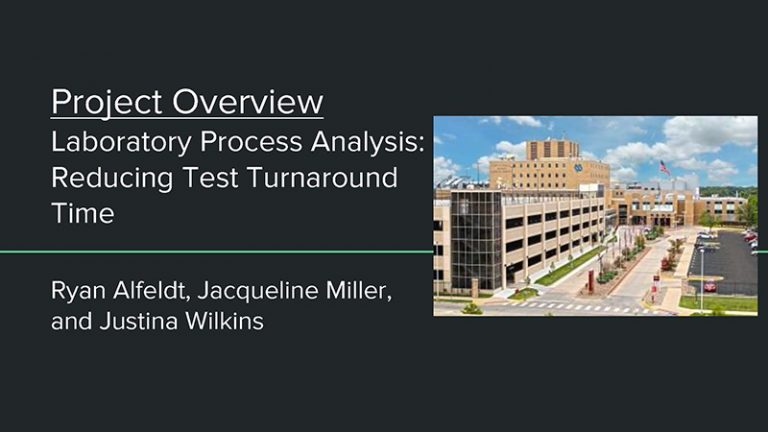 Veterans Administration Hospital
Project: Laboratory Process Analysis: Reducing Testing Turnaround Time (PDF)
Team Members: Ryan Alfeldt, Jacqueline Miller, Justina Wilkins
Objective: Reduce average testing turnaround time to under 45 minutes.
---
Manufacturing Capstone Projects

American Air Filter
Project: Production Cell Redesign (PDF)
Team Members: Katie Allard, Emma Flinner, Nathan Smith
Objective: The project objective is to double the daily throughput from X to Y filters per day in the Astrocel III assembly area by making improvements to the cell layout, ergonomics, available tools, and polyurethane station drying system.
---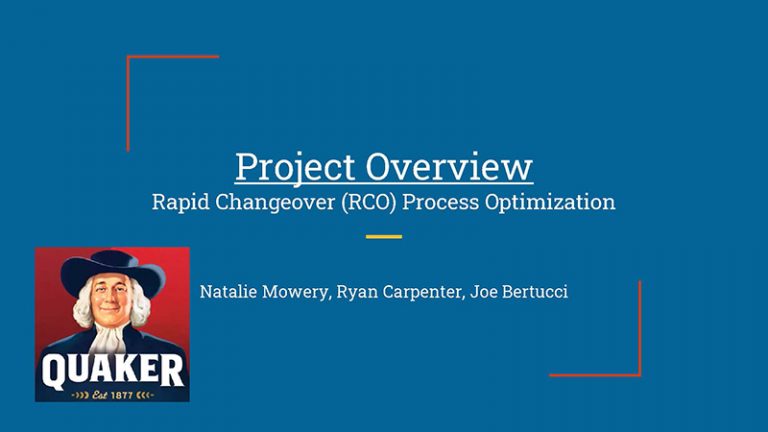 PepsiCo – Quaker Oats
Project: Rapid Changeover Process Optimization (PDF)
Team Members: Joseph Bertucci, Ryan Carpenter, Natalie Mowery
Objective: Through RCO and process analysis, our team aims to define a standard cleaning process that can be used across each rice cake line in order to decrease clean time by at least 20% and allow for maximum production capacity.
---
Schneider Electric
Project: Kitting Process Optimization (PDF)
Team Members: Justin Loquercio, Julia Olson, Gabriel Olwig
Objective: Reduce non value added time by 50%.