September 24, 2021
Three Industrial and Manufacturing Systems Engineering alumni have been inducted into the IMSE Hall of Fame for their significant career contributions as leaders in manufacturing. Adriana Ocampo was inducted in 2018, David Engelkemeyer was inducted in 2014, and Russell Greene was inducted in 2008.
The IMSE Hall of Fame was established in 2008 to honor distinguished industrial engineering graduates who have made an impact within their field and to recognize those who have supported the IMSE Department.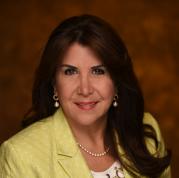 Adriana S. Ocampo, BS IE '96, Inducted in 2018
An exchange student from the Universidad del Norte in Barranquilla, Colombia, Ocampo only intended to stay at Mizzou for one semester. After arriving on campus, though, she decided to complete her degree at Mizzou.
After graduation, she was hired by McDonnell Douglas Corporation (MDC) as an industrial engineer. At that time, she was the only female and youngest member of her team. MDC merged with Boeing, and Ocampo became a subject matter expert certified in the areas of Lean Manufacturing and Six Sigma. She went on to lead projects domestically and internationally.
At 28, she had obtained her MBA from Maryville University and was promoted into a management position in operations. She was selected to participate in a leadership development program and later transitioned into Supplier Program Management as the Lean and Affordability leader.
She then worked in Strategic Work Placement and was promoted to lead the Small Business Innovation Research (SBIR) program, where she interacted with the Department of Defense, NASA, the National Science Foundation, other government agencies and the aerospace industry in matters related to legislation and advocacy for small business programs.
Following that position, she joined the Enterprise Auditor Leadership Program and was named Chief of Staff to the General Manager of Boeing South Carolina. Just a few months into that position, she was promoted to Senior VP of Engineering and Operations of Boeing Global Services.
David F. Engelkemeyer, BS IE '73, Inducted in 2014
From Hermann, Missouri, Engelkemeyer pursued Industrial Engineering at Mizzou because of his aptitude for math and science and his interest in business.
Upon his graduation, he worked for Procter & Gamble (P&G) at the manufacturing plant in Cape Girardeau, Missouri. While there, he went through management development training that helped him to take on executive positions.
Throughout his career, he worked for Welch's Foods and the Banta Corporation, serving as the Executive VP of Operations for both companies. He also served as the Executive VP of Operations for Zoots and Group Director for Avery Dennison's North American office products operations and supply chain functions. He retired as COO of SmartPak Inc., a large equestrian and animal health company and subsidiary of Henry Schein, Inc.
He currently serves on the Board of Trustees for Signature Healthcare, a Boston-based non-profit hospital and health care system, where he serves on the Executive, Finance and Governance Committees and chairs the Quality Improvement and Patient Safety Committee.
He says his experience at Mizzou Engineering helped him to develop a strong analytical process and problem-solving acumen that has served him well in his career.
Russell Greene, BS IE '65, Inducted in 2008
Greene grew up on a small farm where he developed an interest in how things work. During his college education, he often took breaks to work and save money so he could continue. One of these jobs was on a factory assembly line, where he came to appreciate the interaction of man and materials to create.
After graduation, he worked for a steel mill to resolve labor management issues. He spent the next 30 years working for a different company in IT, production control, and management, ending his career with the company as the Plant Manager for a non-ferrous foundry. He then became plant manager and subsequently VP of a switchgear plant. Upon his retirement, he coordinated a major plant expansion at that facility and took on assignments at a sister plant in Ontario, Canada.
He went on to serve as an adjunct professor in the IMSE department at Mizzou. He is a life member of the Society of Manufacturing Engineers and remains active in the local chapter serving as the liaison to sponsored student chapters at Mizzou and Southern Illinois University Edwardsville.