June 07, 2021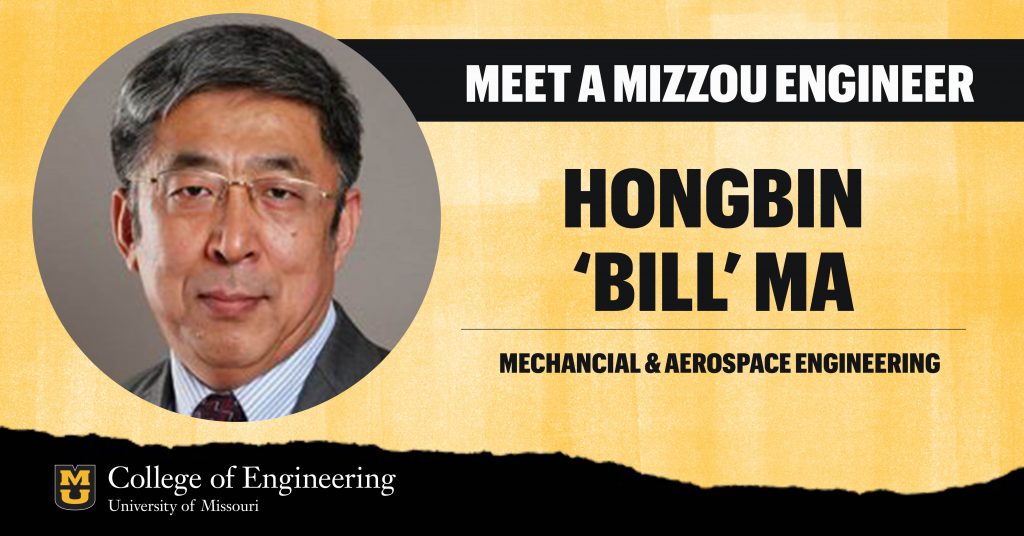 Imagine having a two-sided lunchbox that could keep your soda cool all day while also heating a can of soup at lunch. Or a temperature-controlled swimming pool that allowed you to swim in November. What about a high-tech beach umbrella that could keep you 15 degrees cooler than the air around it? Sound like a futuristic utopia? Meet Hongbin "Bill" Ma.
Ma is professor and chair of the Department of Mechanical and Aerospace Engineering at Mizzou Engineering. This past year, he was elected a Fellow by the National Academy of Inventors — a highly prestigious honor bestowed on just 1,400 scientists around the world.
The recognition is fitting. Ma has five patents and 10 pending. He's co-founded two companies to let the world benefit from his research discoveries. ThermAvant Technologies, founded in 2007, focuses on US-made products related to military applications. ThermAvant International, founded in 2016, manufactures innovative everyday products.
Ma wasn't looking to add "president" or "CEO" to his title when he branched out into the business world. Rather, he just wanted a way to share his technologies.
"I was doing great at teaching and research, so why start a company? Because I was thinking my research might make life more comfortable and enjoyable," he said. "The idea is to create breakthrough technologies to bring the research to consumer products that make life better."
Developing Heat Pipe Technology
Ma's research focuses on phase-change heat transfer and oscillating heat pipes, electronics cooling and thermal management, and ejector refrigeration. In other words, Ma is an expert when it comes to temperatures.
Since joining MU in 1999, he's received funding from a number of high-profile agencies interested in heat pipes, which remove heat from electronics without using heat pumps.
Ma worked with Intel to develop low-cost heat pipe cooling devices for computer cooling from 1999 to 2007. He and his team demonstrated that the low-cost heat pipe could be developed and used for computer cooling in 2001. In 2002, Ma founded the ISoTherM (Innovative Solutions of Thermal Management) consortium at MU to commercialize this low-cost heat pipe cooling device for computers. The consortium members consisted Intel, Foxconn, Luvata, and other computer manufacturers.  Because of this consortium, Luvata manufactured the copper tubing, Foxconn manufactured the heat pipe cooling devices, and the end users such as Intel, IBM, and Dell have employed the heat pipe cooling devices for their computer cooling. This consortium has contributed substantially to the advancement of heat pipe applications in computer cooling. If you open your laptop or desktop now, you will see a heat pipe inside.
Over the last 15 years, Ma's research on Oscillating Heat Pipes (OHPs) has resulted in many breakthroughs which have revealed the potential of OHPs and have made their commercialization possible. ThermAvant is the only company in the U. S. to manufacture and sell high performance OHP cooling devices to the top defense companies and has led to earning the 2018 100 R&D Award.
Last year, he proposed a hybrid solar electric system expected to achieve electric efficiency of up to 42% with a power output of 100 watts — efficiency unmatched by current technologies. And more recently, Ma began working on the development of a gas-fired ejector heat pump water heater (funded by the Department of Energy) that would use half the current consumption of natural gas in residential water heaters.
But it was a coffee cup that took his work out of the lab and into the commercial market space.
Ma was actually solving his own problem when he developed the LEXO, an innovative thermal cup that keeps beverages at an optimal 140 degrees Fahrenheit. He remembers getting coffee on the way to work that was too hot to drink. Then, he'd get to the office, and the coffee would get cold by the time he got back to it.
That's when he realized he could apply the same heat pipe principles to beverage containers.
"I thought 'why not use that to absorb some of the energy and release it back to keep the temperature constant?" he recalled.
It took a year to develop a prototype and take the LEXO to market. He followed it up with a second-generation mug, the Burnout, with improved cooling time.
Ma's international company is now moving forward with more ideas. Instant-Drink Burnout mug that can cool hot coffee instantly, which will be on market in Fall of 2021. High-tech baby bottles that keep milk the ideal temperature. Bowls that keep soup hot. Dual-sided lunch boxes. Coolers that keep beverages icy cold without the ice. High-efficiency air conditioners and reimagined air purification systems.
Making Mizzou Better
While his company strives to make life better for all, Ma has been improving lives at Mizzou Engineering for more than 20 years.
His teaching and leadership philosophies are grounded in simple truths. Work hard. Be honest. Collaborate. And be true to yourself. He especially applies the latter to faculty in his department.
"Each faculty member has a uniqueness that I highly respect," Ma said. "Some faculty members do a great job at teaching, and we respect that. Others bring in research projects, and we respect that. Everybody's unique contributions and expertise should be valued."
His straight-forward style and transparency have influenced students who have gone on to work at major corporations and in academic positions. One alumnus is now a manager at a well-known computer company—a position he might not have gotten were it not for Ma's guidance.
"His mother wrote me a long letter thanking me," Ma recalled. "One line said, 'You changed my son's life.' I was very touched."
In another instance, he altered the trajectory of a student originally majoring in business but who demonstrated some engineering skills. Ma enlisted him to work on a brochure for his lab.
"He was in business, and I needed a brochure, so he developed it for me," Ma said. "One semester later, he transferred to mechanical engineering and started working with me. After he graduated with his bachelor's he continued to work with me and earned his PhD in four years. He is now a professor."
Ma became chair of Mechanical and Aerospace Engineering in 2020 and brought a clear vision to the role. Provide high-quality teaching, give back and work with others.
"We should do our best to serve local, national and international communities," he said. "Collaboration is the most important thing. Collaboration will help move our department to the next level. And with these connections, we can attract top students and research projects."
And, when possible, conduct innovative research that's meaningful to the world,
"The goal is to make life more comfortable and more enjoyable," Ma said. "We want to bring the latest technologies to consumer products to make life better."