April 16, 2021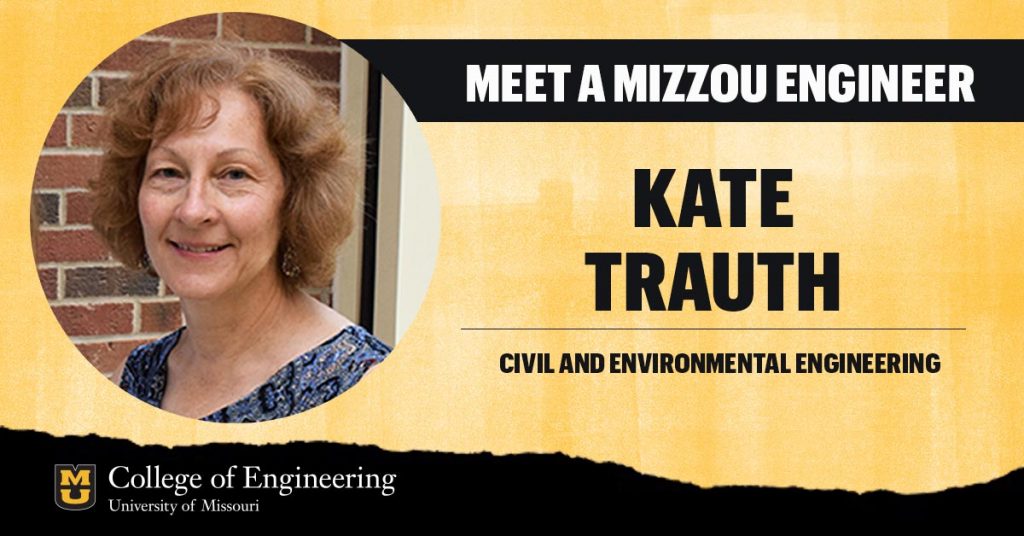 Dedicated professor. Water researcher. Problem solver. Meet Kate Trauth, associate professor and Inclusivity, Diversity and Equity (IDE) faculty fellow at Mizzou Engineering.
Trauth has taught at Mizzou for 21 years and is currently in the Department of Civil and Environmental Engineering. Her research focuses on stormwater, understanding how to manage it better using geographic information systems (GIS).
Road from Research to Teaching
Growing up as the youngest of seven daughters, Trauth was always interested in science and math but never thought about engineering until a guidance counselor introduced her to the idea in high school.
"Knowing the possibilities and opportunities can be a big step in that process" Trauth said of discovering engineering.
She specifically enjoyed learning about water and the environment, which ultimately shaped her career goals. Trauth began her career at a national laboratory, an experience that informed her teaching and led to the development of a few classes she teaches at Mizzou.
"I'd had that experience at a national laboratory, and I wanted to do the research, but I also wanted to share what I had learned and developed over that time within the environmental area and how we deal with significant questions that the nation faces regarding scientific or environmental issues" Trauth said.
Impact of Water Research
Trauth's research focuses on understanding stormwater, how it flows and moves and analyzing how that impacts surfaces and the environment.
"I'm wanting to understand the movement of water in service of how can we manage it better. Some of the research with my graduate students involves the application of hydrologic and hydraulic principles to the spatial analysis of the landscape."
Trauth has received funding from the Environmental Protection Agency (EPA) for studying wetlands which are an important ecosystem for plants and animals, in addition to providing flood control and water purification services.
"They are an important lynchpin in the environment," she said. "Some of the research I'm involved in is saying 'how do we work smarter to find what we can do that can really make an impact in preserving, restoring or creating new wetlands?'"
She and her colleagues are looking at where creating or re-establishing a wetland will be the most successful and where such a wetland would provide the most benefit.
Incorporating policy into this and determining policies that would benefit wetlands and developing new wetlands will help meet society's needs. In addition, she has been working on a stormwater management device with her daughter who graduated from Mizzou with an engineering degree.
Developing the Next Generation of Women Engineers
Trauth credits a tremendous set of mentors to her success and ability to make it in a field dominated by men. Early on she recognized the need for women, especially in science, to have that community and support. To pay it forward, she created that at Mizzou.
During her time at Mizzou, Trauth has worked with freshman interest groups (FIGS) to connect with and mentor incoming students. She also started the Ada Wilson Green Tea lecture, held during Engineers' Week, that celebrates women in engineering and is named after the first woman engineer to graduate from Mizzou.
"I see my role as helping point them toward resources, facilitating their activities, helping them along however I can and be someone there to answer questions."
Trauth's mentorship skills were recognized earlier this year when the College appointed her an IDE Fellow
Trauth also develops the next generation of engineers through her dedicated teaching. She is always available to answer questions and help her students. She recognizes that an engineering degree is unlike other degree in that it shapes the way you think.
"When you go through engineering, you become an engineer," she said. "You learn how to think, put things together. It's powerful to have that ability of having a framework in which to understand the world around you and solve problems. That's part of the education, learning how to approach problems."
That approach to problem solving has helped her not only as a professor but as a mentor to the next generation.