May 24, 2021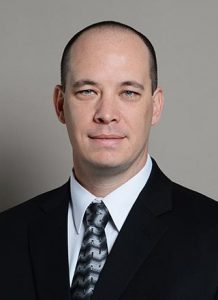 A Mizzou Engineer shared his expertise in machine learning and data analytics with business professionals last week, encouraging them to begin to think about ways in which computing systems could help them better process big data.
Grant Scott is an assistant professor in the Electrical Engineer and Computer Science Department and Center for Geospatial Intelligence. He is also founding director of the Data Science and Analytics master's degree program.
On Wednesday, Dr. Scott presented at a workshop, "Enhancing Business Operations with Machine Learning," hosted by the Institute for Electrical and Electronics Engineers (IEEE) Computational Intelligence Society.
Unlike artificial intelligence, which is a broad term for machines that perform tasks, machine learning allows a computer to learn from data, and then respond as it is given new information. The technology is already transforming machine-focused businesses such as the automotive industry with the emergence of self-driving vehicles. However, Dr. Scott believes there is also a place for it in human-centric businesses that may grapple with growing data sources and information overload. In addition to traditional sources of information, businesses are now having to keep up with constant streams of data such as website traffic and social media analytics.
Machine learning has the ability to help businesses analyze that massive amount of data to identify trends and make better-informed decisions about the future.
"There's a saying that data is the new oil," Dr. Scott said. "If we can properly refine our data, we can create significant business value. But that data must be refined to be interpreted and used."
Dr. Scott is teaming up with IEEE to launch a new five-course series on how businesses can begin to adopt machine learning processes. The series aims to help business leaders understand machine learning and how it can be used to manage operations.
For smaller businesses that don't have the technical know-how or resources to develop machine learning models, Dr. Scott recommends managers identify at least two employees who can begin to think about how data can be used to best make decisions.
"The first person needs to be a business stakeholder who understands the most about the value of the data to the business," he said. "And you need a technical person to explore and self-learn and get their head around the art of what's possible. Together they can determine how big data concepts can lead to value, especially when machine learning is leveraged in business operations."